Description
Theta Tau (ΘΤ) was founded in 1904 by four engineering students at the University of Minnesota in Minneapolis. As defined by the fraternity, "The purpose of Theta Tau is to develop and maintain a high standard of professional interest among its members, and to unite them in a strong bond of fraternal fellowship." The goals of the fraternity are to promote the social and professional development of its members during and after their college years. Today, Theta Tau is the oldest and largest professional engineering fraternity in the United States, with a diverse membership of men and women studying engineering at more than 40 campuses.
The Fraternity was founded as the "Society of Hammer and Tongs" on October 15, 1904, by Erich Julius Schrader, Elwin Leroy Vinal, William Murray Lewis, and Isaac Baker Hanks. The name was changed to Theta Tau at the fraternity's first national convention at the University of Minnesota in 1911. Since then, approximately 30,000 members have been initiated.
The Theta Tau Central Office is located in Austin, Texas.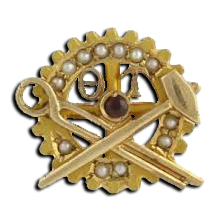 Theta Tau Badge
Symbols
The primary symbols of Theta Tau are the Hammer and Tongs, and the gear wheel.
The Open Motto reads: "Whatsoever thy hand findeth to do, do it with thy might;…" – Ecclesiastes 9:10
The Flag of Theta Tau is broken into four quadrants, alternately colored dark red and gold. In the upper left corner is the crest of Theta Tau. In the opposing corner are the Greek Letters ΘΤ in gold. There is also an Alternate Flag that is divided into three parts and colored dark red/gold/dark red. The letters ΘΤ in dark red are found in the center section.
The Colors of the fraternity are Dark Red and Gold.
The Gem is the Dark Red Garnet. More specifically, this is probably the more common Pyrope Garnet based upon color and availability, which is used in the member's badge.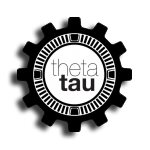 Theta Tau Symbol — Gear
Executive Council
The Executive Council of Theta Tau is the elected officer body of the national fraternity.
Grand Regent — Brandon Satterwhite, Mu (1998)
Grand Vice-Regent — Matthew Clark, Kappa Beta (1999)
Grand Scribe — Rachael Ferrera, Xi Gamma (2006)
Grand Treasurer — Sagid Elhillali, Kappa Gamma (2010)
Grand Marshal — Jamey Vann, Mu Gamma (2005)
Grand Inner Guard — Ian Lacy, Zeta (2008)
Grand Outer Guard — Amanda Graor, Theta Gamma (2006)
Student Member — Holly Collins, Xi Gamma (2015)
Delegate at Large — Michael Livingston, Gamma Beta (1992)
— Read More History on Theta Tau on Wikipedia
Theta Tau (ΘΤ)
Founded On: October 15th, 1904 – The University of Minnesota
Type: Professional Fraternity
Colors: Dark Red and Gold
Flower: Jacqueminot
Nicknames: TT-Theta-Tau
Chapters: 80 Chapters (62 Active), 12 Colonies
Website: www.thetatau.org
Motto: Απολύτως χέρι σου findeth να κάνει, το κάνει με δύναμη σου — "Whatsoever thy hand findeth to do, do it with thy might;…"
Theta Tau's Flag