Description
Theta Chi Fraternity (ΘΧ) is an international college fraternity. It was founded on April 10, 1856 at Norwich University in Norwich, Vermont, and is a member of the North-American Interfraternity Conference. Theta Chi has initiated more than 180,000 members and currently has over 8,000 undergraduate members across North America.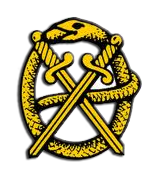 Theta Chi Badge
History — Founding and Early Years at Norwich
Theta Chi was founded on April 10, 1856, at Norwich University in Norwich, Vermont, by two military cadets, Frederick Norton Freeman and Arthur Chase. A third man, Egbert Phelps, is considered to be the "assistant founder" for lending his help and advice to Freeman and Chase after transferring to Union College in 1854 (he was a member of the Chi Psi Fraternity). The first initiates after the founders were Edward Bancroft Williston and Lorenzo Potter. Theta Chi's early history is closely connected to the history of Norwich University. In 1866 a massive fire devastated the University, completely destroying the Old South Barracks, where the Fraternity had been founded. This disaster prompted the University to move from Norwich, Vermont to its present location in Northfield, Vermont. During fall quarter in 1881, Norwich University was reduced to only 12 students and Theta Chi's membership was reduced to one undergraduate member, James M. Holland. In November of that year, Phil S. Randall and Henry B. Hersey approached Holland and insisted that they be allowed to join Theta Chi; Holland agreed, thus saving the Fraternity from extinction.
History — Growth
With the help of brother Charles Dole, who was serving in the Vermont State Legislature, Theta Chi was formally incorporated under the laws of Vermont on November 22, 1888, and acquired its first chapter house in 1890. There were early efforts to expand Theta Chi but because of the anti-expansion sentiment among members of the Alpha Chapter it remained a single entity for 46 years until the Beta Chapter was installed at the Massachusetts Institute of Technology on December 13, 1902. A Grand Chapter was organized in 1908 to direct the fraternity and promote its growth. On April 14, 1942, Beta Kappa Fraternity merged with Theta Chi, bringing 16 undergraduate chapters and over 6,000 undergraduate and alumnus members into the ranks. Unlike other Fraternity mergers, Beta Kappa was completely absorbed into Theta Chi with no changes to the name or Ritual. The Foundation Chapter was established in 1953 as a charity to provide educational scholarships and assistance. In 1965, the Zeta Gamma Chapter was installed at the University of Alberta in Edmonton, Alberta, Canada, making Theta Chi an international fraternity.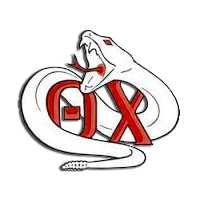 Theta Chi
Symbol – Rattlesnake
Ideals, Traditions, and Symbols
The Greek motto of Theta Chi is Θηρόποσα Χείρ, which is translated as "An Assisting Hand." Theta Chi's motto was secret from the founding in 1856 until the 1930s, at which time it was made public and incorporated into the fraternity's coat of arms.
When Freeman and Chase founded Theta Chi in 1856 they very clearly spelled out the purpose of the Fraternity in the original Constitution. Article I stated that the objects of Theta Chi were to "bind by closer bonds the members to each other and the mutual assistance of each of its members;" "the advancement and carrying out of any measures at the institution in which it shall be established which shall be of importance to its members," and "the mutual benefit and improvement of all its members."
The Fraternity's maxim is "Alma Mater First and Theta Chi for Alma Mater," and refers to one of the founding ideals of the Fraternity: loyalty to one's college or university over the course of one's lifetime.
The Fraternity's colors are military red and white. Its flower is the red carnation. The national alumni publication is The Rattle, named for the rattlesnake that appears on the Fraternity's coat of arms and badge. It has become a Theta Chi tradition to celebrate Founders Day on April 10, usually as an alumni gathering.
Sometimes mistakenly called the crest, the Fraternity Coat of Arms consists of a gold shield with a red bend containing two downward pointing swords and a knotted rattlesnake, surmounting a scroll bearing the date of the Fraternity's founding and the motto in Greek. An esquire's helmet sits on top, on which stands a gold eagle.
According to The Manual of Theta Chi, the original design for the coat of arms was suggested by Freeman, and members of Alpha Chapter used his ideas to develop an official image. The coat of arms has undergone over a dozen modifications since, with the current design being approved in 1939.
— Read More History on Theta Chi on Wikipedia
Theta Chi (ΘΧ)
Founded On: April 10th, 1856 – Norwich University
Type: Social Fraternity
Colors: Military Red and White
Flower: Red Carnation
Nicknames: Theta-Chis
Chapters: 141 Active, 11 Colonies
Website: www.thetachi.org
Motto: Ένα βοηθητικό χέρι — "An Assisting Hand"
Theta Chi's Flag