Description
Psi Upsilon (ΨΥ, Psi U) is a North-American fraternity, founded at Union College on November 24, 1833. It has chapters at colleges and universities throughout North America.
Psi Upsilon's foundation provides scholarships and other financial guidance to students throughout the US and Canada, giving preference to its own members, as well as mentoring and other support services.
The mission of the Psi Upsilon Fraternity is to provide its members with: Individual development of the highest educational, moral, intellectual, and social excellence; The commitment to a lifelong brotherhood of firm and enduring friendship; The opportunity for the development of leadership skills that can be utilized in an undergraduate environment and throughout life; The commitment to contribute to their educational environment, their community, and their country throughout their lives.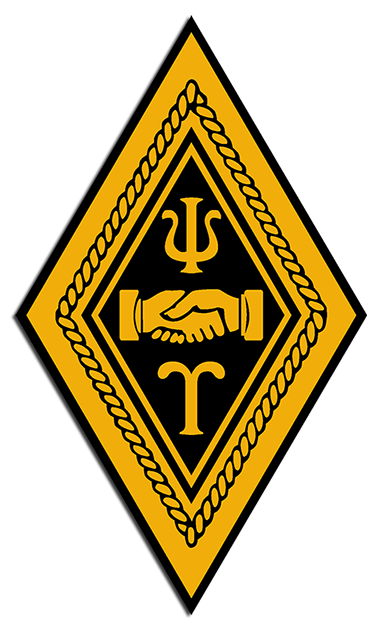 History
In the 18th and 19th centuries, college extracurricular activities were primarily intellectual exercises in the form of literary debates, readings, and oratorical contests. These societies were too large to allow for close friendships to develop among all their members. The societies were heavily influenced by the colleges' faculties. Out of this stifling atmosphere came fraternities, where students were able to exercise their intellectual freedom. At Union College in Schenectady, New York, with a student body of 232, there were few extracurricular activities, and so it is no wonder that more fraternities were founded at Union than any other school. The Delphian Society was started in 1819 and was more secretive and close knit than the other societies at Union. In 1833, five sophomore and two freshman members had become grand friends. They began to meet regularly to exchange essays and engage in literary debate, and soon it became tradition. The seven men realized there was something unique which was created, and wanted a way to make it permanent, and thus the founding of Psi Upsilon came forth. Psi Upsilon was founded on the evening of November 24, 1833. The first Constitution was adopted on January 10, 1834.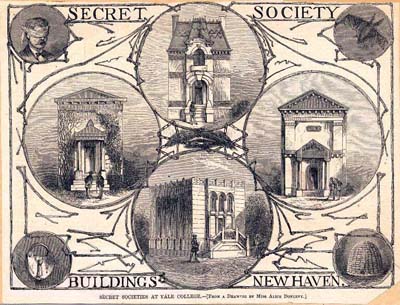 Psi Upsilon
Secret Society Buildings
New Haven
World War II
All industry was redirected to the war effort. Food and fuel were rationed. Needless to say, there was little fraternity life during World War II. The mobilization brought new challenges to Psi Upsilon, especially to those chapters that had houses to maintain. A few chapters, such as the Omicron, were able to rent their houses to the Army as barracks and offices. One chapter, the Epsilon Nu, even went so far as to rent its house to a sorority (Gamma Phi Beta). The rental income these chapters received allowed them to survive. Other chapters, such as the Lambda, could not afford the taxes and upkeep on an empty house and had to sell. Still other chapters, like the Eta, sold their houses or land to the college.
The effects of the war on Psi Upsilon continued long after the peace treaties were signed. First of all, Psi Upsilon had missed an entire generation. There were few alumni from the 1940s to take over the job of advising the undergraduates. Secondly, many of the undergraduates, particularly in the early 1950s, were much older than the traditional 18-year-old college student. They were often veterans of World War II, and did not need nor want advice from alumni. For the first time in Psi Upsilon history, and in every fraternity's history, undergraduates were left to themselves, without the benefit of alumni advice and guidance. Most fraternities had a national headquarters and staff that could assist a chapter in trouble; however, the void was not completely filled.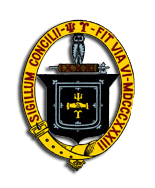 Psi Upsilon Seal
of Executive Council
From the time of the Founders, brothers with remarkable leadership and foresight have guided Psi Upsilon. Recognizing that times had changed, the Executive Council hired professional staff and established a central office to assist chapters. At first the office consolidated initiation records and address lists, published The DIAMOND and secured the fraternity's historical artifacts. Over time, the staff's size, function and expertise grew. Young alumni were hired to visit chapters as educational and leadership consultants, reviewing chapter operations and suggesting ways to improve. Leadership training was developed and expanded, regular conclaves began to be held to train officers and alumni, and an annual leadership institute was created to inspire all brothers to greatness. Handbooks were published for each officer position and for general programs, such as alumni relations, chapter publications, membership recruitment, new member orientation and ritual. Alumni associations were given professional advice on fundraising and house renovations. From a low point in Psi Upsilon's history, our undergraduates and alumni rose up to reinvigorate and modernize our society, making it stronger than it ever was before. Within twelve years of the end of the war, five chapters were reactivated and four new chapters were chartered. Expansion brought new vitality as well as new ideas to Psi Upsilon, and the fraternity has continued this progressive expansion ever since.
— Read More History on Psi Upsilon on Wikipedia
Psi Upsilon (ΨΥ)
Founded On: November 24, 1833 — Union College
Type: Secret, Social, Literary Fraternity
Colors: Garnet and Gold
Flower: N/A
Nicknames: Psi-U-Psi-Upsilon
Chapters: 50 Chapters, 29 Active
Website: www.psiu.org
Motto: Εις μας έπληξε ένα ισχυρό φιλία — "Unto us has befallen a mighty friendship"
Psi Upsilon's Flag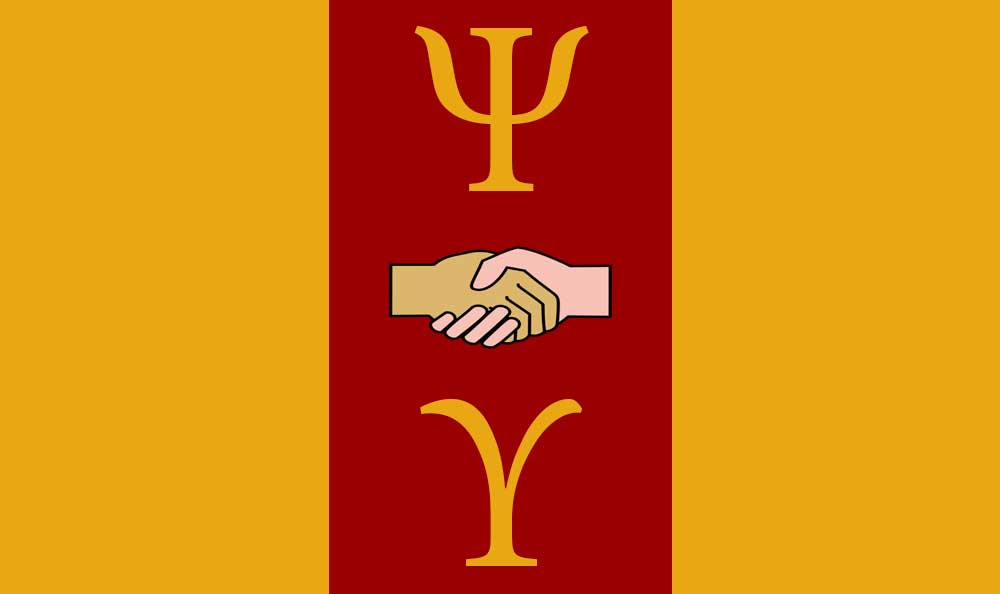 Official Colors
| 1st Color | 2nd Color | 3rd Color |
| --- | --- | --- |
| Garnet | Gold | N/A |
| | | |