Description
Phi Sigma Alpha Fraternity (ΦΣΑ) ((Spanish) Fi Sigma Alfa) commonly known as La Sigma, is a Puerto Rican fraternity established originally as the Sigma Delta Alpha Fraternity (Sociedad de Amigos) on October 22, 1928 at the University of Puerto Rico by 12 students and a professor. Phi Sigma Alpha can trace its roots back to 1898 to the Union Hispano Americana, as well as to the first ever Greek letter Hispanic-oriented fraternity Sigma Iota established in 1912. By 1998 there were over 4,376 members.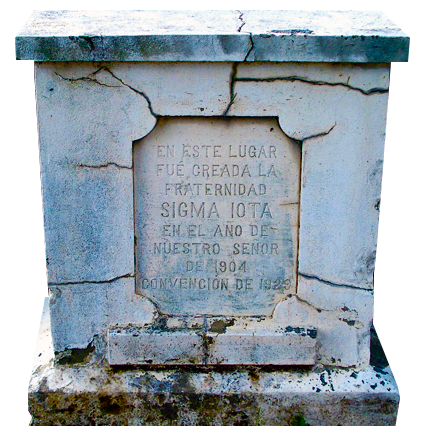 History
Phi Sigma Alpha traces its origins to a number of organizations including Phi Lamba Alpha. Phi Lambda Alpha fraternity was founded at the University of California, at Berkeley in 1919. The fraternity was a merger of three societies; the Unión Hispano Americana at Rensselaer Polytechnic Institute, Troy, New York founded in 1898, the first Latin-American student society in the USA; Pi Delta Phi Fraternity at Massachusetts Institute of Technology (MIT) founded in 1916; and Phi Lambda Alpha Fraternity founded in 1919 at the University of California, Berkeley. A group of Latin American students organized the Union Hispano Americana (UHΑ) as a cultural and intellectual secret society based on the ideology of Pan-Americanism.
After ΦΛA was organized, other societies joined it: the "Club Latino-Americano" founded in 1919 at Colorado School of Mines; the "Federación Latino-Americana" founded in 1926 at Columbia University which joined in 1928; the "Club Hispania" founded in 1929 of Cornell University which joined in 1931; the "Club Hispano-Americano" founded in 1921 of Tri State College in Angola which joined in 1929 and the Alfa Tenoxtitlan Militant chapter founded in 1929 made up of members of the old ΦΛA in Mexico.
Sigma Iota Fraternity was founded in Baton Rouge, Louisiana, on March 2, 1912 previously known as the Sociedad Hispano Americana, which was founded in the University of Louisiana in 1904. Between 1912 and 1925, Sigma Iota expanded rapidly in the United States, South America, and Europe. As a result of this, Sigma Iota became the first international Latin American-based fraternity. Sigma Iota and Phi Lambda Alpha joined and became Phi Iota Alpha in 1931. In 1932, Phi Iota Alpha reorganized and formed the Union Latino Americana as its overall governing body, dividing their member fraternities in Latin America into zones in accordance to the country which they represented.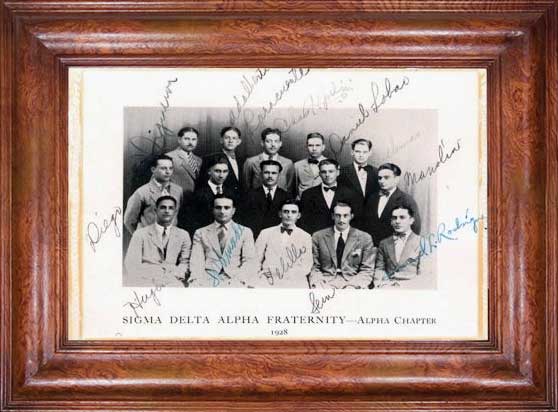 Phi Sigma Alpha Founders
and Two of the First
Members to Join
The Sigma 1928-1934
Sigma Delta Alpha fraternity, was established by 12 students and a professor on October 22, 1928 at the University of Puerto Rico at 4:00pm at the Glorieta Fabián. The founding members included: Santos P. Amadeo (professor of Law) , Juan Figueroa, Fernando Jiménez, Hugo D. Storer, Joaquin Velilla, Victor M. Sánchez, Adalberto Carrasquillo, Diego Guerrero Noble, Samuel L. Rodríguez, José Laracuente, Charles H. Juliá, Gilberto del Valle and Gilberto Alemar.
Originally the name Kappa Delta Alpha was considered but it was quickly changed to Sigma Delta Alpha. By December 5, 1928 they established their Chapter House where they began celebrating their meetings.
Sigma Delta Alpha enjoyed for many years certain supremacy over the other student organizations at the University. Their membership included four of the most important student leadership positions at the university: the Yearbook editor, the senior class president, the Athletic Society President, and the ROTC Battalion Commander. Every activity sponsored by the administration was consulted with the chapter president of Río Piedras. In 1929 the Beta Chapter at the Colegio de Mayagüez (University of Puerto Rico at Mayagüez) was established; thus the original chapter became known as Alpha.
— Read More History on Phi Sigma Alpha on Wikipedia
Phi Sigma Alpha (ΦΣΑ)
Founded On: October 22nd, 1928 – University of Puerto Rico
Type: Social Fraternity
Colors: Azure, Gules, & Or
Flower: N/A
Nicknames: Fi-Sigma-Alpfa-La-Sigma
Chapters: 16 Chapters
Website: www.fisigmaalfa.org
Motto: Caballeros Ante Todo — Maxim: Omne Rarum Carum
Phi Sigma Alpha's Flag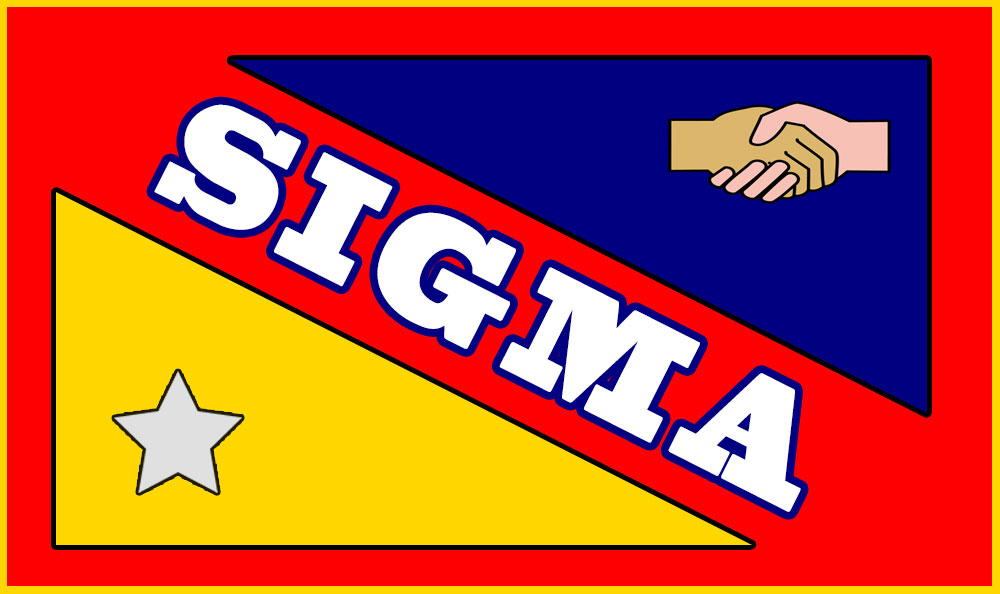 Official Colors
| 1st Color | 2nd Color | 3rd Color |
| --- | --- | --- |
| Azure | Gules | Or |
| | | |