Description
Phi Kappa Tau (ΦKT), commonly known as Phi Tau, is a collegiate fraternity located in the United States. The fraternity was founded in 1906. As of 2013, the fraternity has 146 Chartered Chapters, 81 active chapters, and around 4,000 collegiate members. SeriousFun Children's Network, founded by Beta Chapter alumnus Paul Newman, is Phi Kappa Tau's National Philanthropy. According to its Constitution, Phi Kappa Tau is one of the few social fraternities that can accept graduate students as well as undergraduates.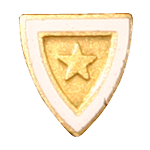 Phi Kappa Tau Associate Badge
History
Phi Kappa Tau Fraternity (commonly called Phi Tau) was founded in the Union Literary Society Hall of Miami University's Old Main Building in Oxford, Ohio, on March 17, 1906. The four honored founders were Taylor A. Borradaile, Clinton D. Boyd, Dwight I. Douglass, and William H. Shideler.
The fraternity was founded as the non-Fraternity Association to give Miami's non-fraternity men a voice in campus political affairs. The name was changed to Phrenocon on March 6, 1909. The two proposed names were the "Miami Friends" and the "Miami Comrades", which were combined to form "Frenocom". "Phrenocon" was actually an alternate spelling of "Frenocom", the idea being to make the name sound more Greek.
Phrenocon became "national" in 1911 when an organization of independent men known as the Ohio University Union chose to become the Ohio University chapter of Phrenocon. Additional Phrenocon chapters were established at Ohio State University, Centre College, Mount Union College and the University of Illinois. At Miami, Phrenocon began to have difficulty retaining members by the early 1910s. Often, men would join Phrenocon, then later withdraw their membership and join Greek-letter fraternities. In fact, the Miami chapters of Delta Tau Delta and Sigma Alpha Epsilon were founded by Phrenocon members. For that reason, the Miami Chapter of Phrenocon withdrew from the National Phrenocon and adopted the name Phi Kappa Tau on March 9, 1916. Since 1919, Phi Kappa Tau has published a magazine, The Laurel. Previously, the magazine was known as Sidelights. The rest of the chapters agreed to the name change on December 21 of that year and invited Miami to return to the national organization as the Alpha chapter of Phi Kappa Tau. Eta Chapter at Muhlenberg College was the first chapter to charter after the change to Phi Kappa Tau.
Phi Kappa Tau has been a member since 1916 of the North-American Interfraternity Conference (NIC), a consortium of national men's social fraternities.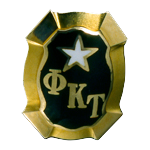 Phi Kappa Tau Member Badge
Phi Kappa Tau Foundation
The Phi Kappa Tau Foundation was created in 1945 as a separate charitable organization. The Foundation's significant expansion began in 1983 with the announcement of a challenge gift of over $1 million from Ewing T. Boles, a member of fraternity's Delta Chapter at Centre College. The Boles gift was the largest gift to a fraternity or sorority foundation up until that time and became the lead gift in a $3.2-million capital campaign. That same year Boles was named an Honorary Founder by Phi Kappa Tau. Boles left an additional bequest of over $3 million to the Foundation upon his death. Boles' example has encouraged other gifts to the foundation,
[citation needed] and its current assets exceed $10 million.

Phi Kappa Tau Seal of Alliance
Organization and leadership
Phi Kappa Tau chapters are organized into Resident Councils which include the current collegiate members of a chapter and Graduate Councils made up of all members who have graduated or left school. Each council of a chapter is entitled to a vote at the National Convention, which typically meets every two years and is the highest level of authority in the organization. The convention elects a National Council which serves as a board of directors for the fraternity and governs between conventions.
Executive offices of the Phi Kappa Tau Fraternity and Foundation are in Oxford, Ohio. Rick Keltner is national president and Mike Dovilla is national vice president.
As of 2013, Phi Kappa Tau reports having approximately 3,500 collegiate members, and over 90,000 initiated members.
— Read More History on Phi Kappa Tau on Wikipedia
Phi Kappa Tau (ΦKT)
Founded On: March 17th, 1906 – Miami University, Oxford, OH
Type: Social Fraternity
Colors: Harvard Red and Old Gold
Flower: Red Carnation
Nicknames: PKT-Phi-Tau
Chapters: 146 Chartered, 81 Active, 8 Colonies
Website: www.phikappatau.org
Motto: Όπου ο χαρακτήρας μετράει — "Where character counts"