Description
Phi Beta Sigma (ΦΒΣ) is a social/service collegiate and professional fraternity founded at Howard University in Washington, D.C. on January 9, 1914, by three young African-American male students with nine other Howard students as charter members. The fraternity's founders, A. Langston Taylor, Leonard F. Morse, and Charles I. Brown, wanted to organize a Greek letter fraternity that would exemplify the ideals of Brotherhood, Scholarship and Service while taking an inclusive perspective to serving the community as opposed to having an exclusive purpose. The fraternity exceeded the prevailing models of Black Greek-Letter fraternal organizations by being the first to establish alumni chapters, to establish youth mentoring clubs, to establish a federal credit union, to establish chapters in Africa, and establish a collegiate chapter outside of the United States, and is the only fraternity to hold a constitutional bond with a predominantly African-American sorority, Zeta Phi Beta (ΖΦΒ), which was founded on January 16, 1920, at Howard University in Washington, D.C., through the efforts of members of Phi Beta Sigma Fraternity.
The fraternity expanded over a remarkably broad geographical area in a short amount of time when its second, third, and fourth chapters were chartered at Wiley College in Texas and Morgan State College in Maryland in 1916, and Kansas State University in 1917. Today, the fraternity serves through a membership of more than 200,000 men in over 700 chapters in the United States, Africa, Europe, Asia, and the Caribbean. Although Phi Beta Sigma is considered a predominantly African-American Fraternity, its membership also consists of diverse college-educated men of African, Caucasian, Hispanic, Native American and Asian descent. According to its Constitution, academically-eligible male students of any race, religion, or national origin may join while enrolled at a college or university through collegiate chapters, or professional men may join through an alumni chapter if a college degree has been attained, along with a certain minimum number of earned credit hours.
Phi Beta Sigma is a member of the National Pan-Hellenic Council (NPHC). The current International President is Jonathan A. Mason, and the fraternity's headquarters are located at 145 Kennedy Street, NW Washington, D.C.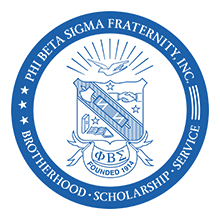 Phi Beta Sigma Seal
History — Genesis and founding (1910–1916)
In the summer of 1910, after a conversation with a recent Howard University graduate in Memphis, Tennessee, A. Langston Taylor formed the idea to establish a fraternity and soon after, enrolled into Howard University in Washington, D.C. Once there, Taylor began to set his vision of a brotherhood into action. In October 1913, Taylor and Leonard F. Morse had their initial conversation about starting a fraternity. As a result, Charles I. Brown was named as the third member of the founding group. By November 1913, a committee was established to begin to lay the foundation of what was to become Phi Beta Sigma Fraternity. Soon after the first committee meeting, Taylor, Morse, and Brown chose 9 associates to assist them with the creation of the fraternity. Those men were the first charter members of the organization.
On January 9, 1914, the permanent organization of Phi Beta Sigma Fraternity was established in the Bowen Room of the 12th Street Y.M.C.A Building in Washington, D.C. On April 15, 1914, the Board of Deans at Howard University officially recognized Phi Beta Sigma and the following week The University Reporter, Howard University's student publication, made known the news.
The first two years of the fraternity's existence would see them organize and maintain a Sunday school program, led by A.H. Brown, open a library and art gallery to the public, the foundation of the Benjamin Banneker Research Society, and also the Washington Art Club. In addition to their impact to the Washington, D.C. Community, the members of Sigma were also impacting the campus of Howard University. Abraham M. Walker was elected associate editor of the Howard University Journal. The following year, Walker and Founder A. Langston Taylor, were elected Editor-in-Chief and circulation manager respectively. Other members were also taking leadership positions as W.F. Vincent, William H. Foster, John Berry, Earl Lawson, among others, were presidents of the Debating Society, the college YMCA, the Political Science Club, and the Athletic Association respectively. On the athletic field, captain John Camper and J. House Franklin were standout football players for Howard University.
In the spring of 1915, the fraternity was seeking to further its intellectual pool. As a result, several affluent African-American scholars Dr. Edward P. Davis, Dr. Thomas W. Turner, T.M. Gregory, and Dr. Alain Leroy Locke, were inducted into the Fraternity. On March 5, 1915, Herbert L. Stevens was initiated, in turn making him the first Graduate member of Phi Beta Sigma.
A year after the establishment of Phi Beta Sigma, the Fraternity saw that the scope of Sigma needed to be expanded beyond just Washington, D.C. and Howard University. On November 13, 1915, Beta Chapter was chartered at Wiley College in Marshall, Texas by graduate member Herbert Stevens. Beta chapter became the first chapter of any African-American Greek-lettered organization to be chartered south of Richmond, Virginia. As Phi Beta Sigma continued its expansion in the Eastern and Southern United States, other national fraternities were beginning to take notice.
On December 28, 1916, Phi Beta Sigma hosted the fraternity's first conclave in Washington, D.C. 200 members representing three collegiate chapters, Alpha, Beta and Gamma (established at Morgan State College) were in attendance. As a result of the 1916 conclave, an official publication for the Fraternity was authorized and member W.F. Vincent was elected as the National Editor.
— Read More History on Phi Beta Sigma on Wikipedia
Phi Beta Sigma (ΦΒΣ)
Founded On: January 9th, 1914 – Howard University
Type: Social Fraternity
Colors: Royal Blue and Pure White
Flower: White Carnation
Nicknames: Sigmas-Phi-Beta-Sigma
Chapters: 700+ Chapters
Website: www.phibetasigma1914.org
Motto: Πολιτισμός Για υποστήριξη, υπηρεσία για την ανθρωπότητα — "Culture For Service, Service For Humanity"