Description
Kappa Sigma (ΚΣ), commonly nicknamed Kappa Sig or K-Sig, is an American collegiate social fraternity founded at the University of Virginia in 1869. Kappa Sigma is one of the largest international fraternities with currently 316 active chapters and colonies in North America. In 2012, the Fraternity "pledged more men than any other fraternity in history". It is one of the leaders of all American fraternities in terms of pledges and new initiates per year, service hours, and philanthropic donations. Its endowment fund, founded in 1919 is the oldest college fraternity foundation and has donated more than $6.5 million to undergrads since 1948. In 2012 alone, the Fraternity's endowment fund raised over $1 million in donations.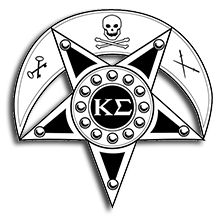 Kappa Sigma Badge
History — Traditional founding: 1400
Kappa Sigma Fraternity tradition holds that it evolved from an ancient order said to have been founded at the University of Bologna in the Middle Ages. According to some accounts, the order was known as "Kirjath Sepher" and was founded between 1395 and 1400. According to this story, the corrupt governor of the city, one-time pirate and later papal usurper Baldassare Cossa, took advantage of the students at Bologna, one of Europe's preeminent universities which attracted students from all over the continent, by sending his men to assault and rob them; this motivated one of the university's scholars Manuel Chrysoloras to found a secret society of students beginning with five of his most devoted disciples, for mutual protection against Baldassare Cossa.
History — American founding: 1869-1880
On December 10, 1869, five students at the University of Virginia met in 46 East Lawn and founded the Kappa Sigma Fraternity in America. William Grigsby McCormick, George Miles Arnold, John Covert Boyd, Edmund Law Rogers, Jr. and Frank Courtney Nicodemus established the fraternity based on the traditions and of the ancient order in Bologna. These five founders became collectively known as the "Five Friends and Brothers.
In 1872, Kappa Sigma initiated Stephen Alonzo Jackson, who would go on to transform a struggling local fraternity into a strong international Brotherhood. The organization attributes much of its success to Jackson noting that, "Since his death in 1892, the success of the Order is the direct result of Jackson's devotion 'to make Kappa Sigma the leading college fraternity of the world".
In 1873, Kappa Sigma expanded to Trinity College (Now Duke University), the University of Maryland, and Washington and Lee University. The fraternity attributes this growth to the initiation of Stephen Alonzo Jackson in 1872. During his membership, Jackson expanded and revised the ritual of Kappa Sigma. He created the Supreme Executive Committee (SEC), which now serves as the governing body of the Kappa Sigma Fraternity on an international level. Jackson also introduced the idea of a frequent, national convention of all Kappa Sigmas, a practice now continued by the biennial Grand Conclave, and characterized the event as "the finest hour" of Kappa Sigma.
— Read More History on Kappa Sigma on Wikipedia
Kappa Sigma (ΚΣ)
Founded On: December 10th, 1869 – University of Virginia
Type: Society Fraternity
Colors: Scarlet, White, and Emerald Green
Flower: Lily of the Valley
Nicknames: KS-Kappa-Sig
Chapters: 316 Chapters
Website: www.kappasigma.org
Motto: Bononia Docet — "Bologna Teaches"
Kappa Sigma's Flag