Description
Iota Nu Delta (ΙΝΔ, also IND) is the world's first South Asian interest fraternity, founded on Monday, February 7, 1994 on the campus of the State University of New York at Binghamton. It is a member of the North-American Interfraternity Conference.
Background
On February 7, 1994, Eight young men at Binghamton University came together to start a movement.
They noticed however, that traditional on-campus student organizations were split among the lines of national origins, and at most provided a group of friends during college. The yearly election of new officers in these student organizations made it difficult to create a lasting impact beyond the college campus – as each new executive board set its own agenda. Further, after members graduated, their ties to these student organizations diminished.
Founding Fathers
The first eight members, known as the national Founding Fathers, of Iota Nu Delta Fraternity, Inc. are:
Sachin Chopra
Varun Gujral
Ankur Desai
Renjy Vattasseril
Stanley Jacob
Shaiju Eapen
Samir Chopra
Johri Mathew
On February 7, 1994, disappointed with the abundance of traditional fraternities, these eight men came together to form the first South Asian Interest Fraternity. Their goal in forming the organization was to bridge the gaps between people of different backgrounds, ethnicity, and cultures – all while promoting South Asian cultural awareness. Iota Nu Delta Fraternity, Inc. is South Asian based, but is not exclusive to men of South-Asian origin.
— Read More History on Iota Nu Delta on Wikipedia
Iota Nu Delta (ΙΝΔ)
Founded On: February 7th, 1994 – Binghamton University
Type: Social Fraternity
Colors: Orange and Green
Flower: Rose
Nicknames: IND-Iota-Nu-Delta
Chapters: 13 Chapters and 11 Colonies
Website: www.iotanudelta.com
Motto: Μιμούνταν Ποτέ Διπλασιασμός — "Blood, Sweat, and Tears Is The Fire In You? Imitated Never Duplicated"
Iota Nu Delta's Flag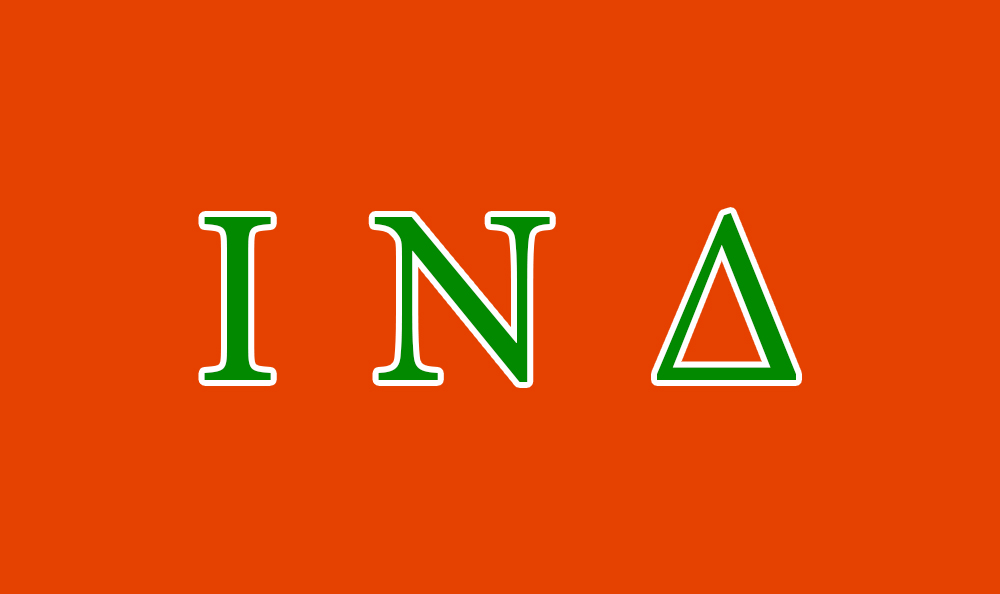 Official Colors
| 1st Color | 2nd Color | 3rd Color |
| --- | --- | --- |
| Orange | Green | N/A |
| | | |