Description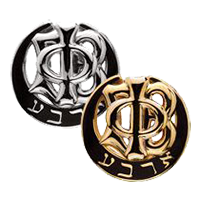 Gamma Phi Beta Badge
Gamma Phi Beta (ΓΦΒ) is an international sorority that was founded on November 11, 1874, at Syracuse University in Syracuse, New York. The term "sorority," was coined for Gamma Phi Beta by Dr. Frank Smalley, a professor at Syracuse University.
The four founders are Helen M. Dodge, Frances E. Haven, E. Adeline Curtis and Mary A. Bingham. The sorority's international headquarters are located in Centennial, Colorado. Gamma Phi Beta currently has more than 190,000 initiated members, 181 chartered collegiate chapters and more than 175 alumnae groups across the United States and Canada. Gamma Phi Beta's primary objective is to inspire the highest type of womanhood.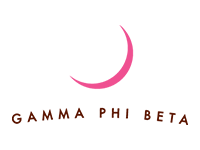 Gamma Phi Beta Logo
History
Colleges and universities admitted few women students in the 1870s; some administrators and faculty members argued women had inferior minds and could not master mathematics and the classics. Regardless, Dr. Erastus Otis Haven, Syracuse University chancellor and former president of the University of Michigan and Northwestern University maintained that women should receive the advantages of higher education and enrolled his daughter, Frances, at Syracuse.
After considering an invitation to join the then two-year old Alpha Phi Fraternity, Frances instead asked three friends to assist her in organizing their own society. They sought the advice and help of Dr. Haven, their brothers, the faculty and members of two existing fraternities. Gamma Phi Beta was subsequently founded by Helen M. Dodge, Frances E. Haven, E. Adeline Curtis and Mary A. Bingham on November 11, 1874, at Syracuse University.
The women had originally selected the colors light and dark blue but changed them in 1875 to brown and mode (dark and light brown) in honor of Dr. J.J. Brown, whose study was used for Friday afternoon meetings of Gamma Phi Beta.
[3] Alpha Phi was founded first in 1872 by 10 of the original 20 women admitted into Syracuse University. Gamma Phi Beta came along two years later in 1874 and Alpha Gamma Delta completed the triad in 1904. The three sororities maintain a bond, and Syracuse Triad ceremonies or events are held on most campuses with chapters of all three groups.
Frances E. Haven went on to assist in founding Omicron Chapter at the University of Illinois. Omicron is the only other chapter founded by one of the original founders. Frances E. Haven Moss is also buried in a cemetery on campus at the University of Illinois.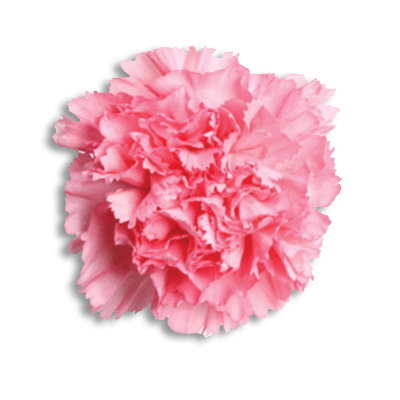 Gamma Phi Beta
Flower — Pink Carnation
Mission Statement, Vision, and Creed
The mission of Gamma Phi Beta is "To inspire the highest type of womanhood."
The vision of Gamma Phi Beta is "We will build confident women of character who celebrate sisterhood and make a difference in the world around us.
The creed is most often broken down to Love, Labor, Learning and Loyalty.
Symbols
Gamma Phi Beta's symbol is the crescent moon, while the flower is the pink carnation. The official colors of Gamma Phi Beta are brown and mode (dark and light brown). Mode can also mean "the style of the day", establishing how brown and pink are now in widespread use in Sorority branding and marketing materials. The official stone of Gamma Phi Beta is the pearl.
The carnation was named the official flower at Convention 1888. Pink was designated the official color of the carnation in 1950. Carnations have been revered for more than 2,000 years as one of the most longlasting flowers. Many varieties produce a clove-like scent, and the aroma is said to be both uplifting and motivating. The legend of pink carnations says they first appeared on earth from the Virgin Mary's tears – making them the symbol of a mother's undying love.
The Gamma Phi Beta badge has not significantly changed since its design in 1874. It was designed by Tiffany & Co. It features a black crescent moon cradling the Greek letters, Gamma, Phi and Beta. Badges are currently produced by jeweler Herff Jones with options for gold or silver, jeweled or not.
The badges worn by International Council members are larger and feature white crescent moons instead of black. The international president's badge is set with diamonds on the Greek letters; other international officer's badges are set with pearls. In 1902, a badge for uninitiated members was approved (a triangular-shaped shield of dark brown on which rests a crescent of yellow).
Membership
Every initiated member has a lifelong membership to Gamma Phi Beta with the opportunity to participate in alumnae activities on the local, regional and international level. Women who have never belonged to a National Panhellenic Conference sorority may be eligible to join Gamma Phi Beta through the alumnae initiate program.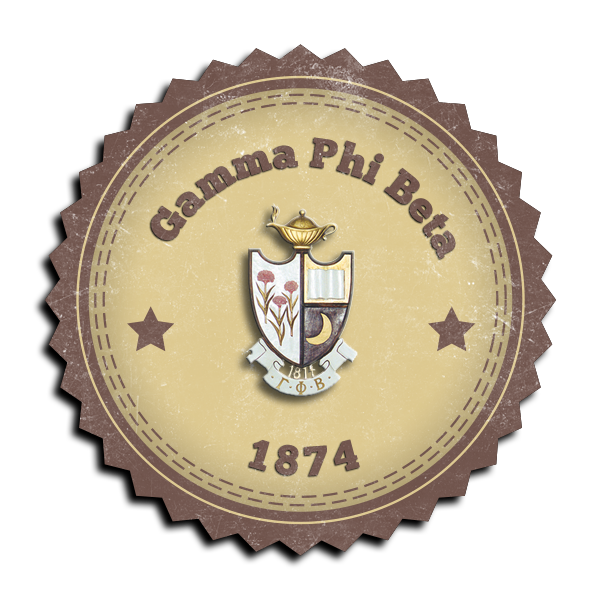 Gamma Phi Beta Seal (Mockup)
Philanthropy and Community Service
Although Gamma Phi Beta is primarily considered a social organization, the sorority has a long history of community service and philanthropic participation.
In 1929, camping for girls was designated the official philanthropy of Gamma Phi Beta and today the organization supports Camp Fire and Girl Guides of Canada. Since 2001, more than $400,000 has been donated to Camp Fire USA and its local councils. Local chapters of Gamma Phi Beta support other philanthropies as well.
At Convention 2012, a new philanthropic focus was adopted: "to provide experiences and resources that build spiritual, mental and social resiliency in girls." To reflect this, the sorority announced its partnership with a third organization: Girls on the Run.
— Read More History on Gamma Phi Beta on Wikipedia
Gamma Phi Beta (ΓΦΒ)
Founded On: November 11th, 1874 – Syracuse University
Type: Social Sorority
Colors: Brown and Mode
Flower: Pink Carnation
Nicknames: GPB-Gamma-Phi-Beta
Chapters: 181 Chapters
Website: www.gammaphibeta.org
Motto: Ιδρύθηκε πάνω σε ένα βράχο — "Founded Upon A Rock"
Gamma Phi Beta's Flag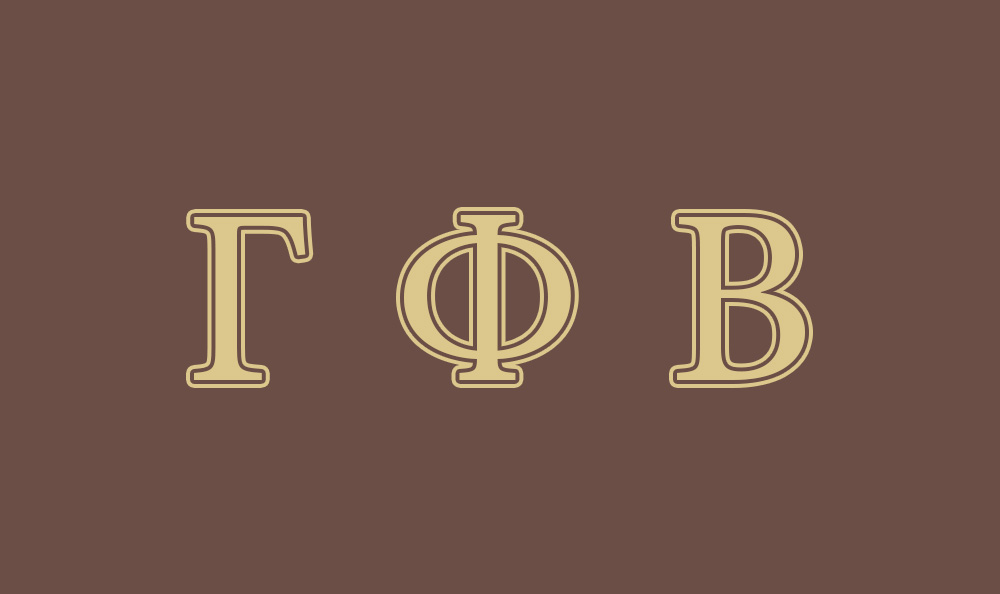 Official Colors
| 1st Color | 2nd Color | 3rd Color |
| --- | --- | --- |
| Brown | Mode | N/A |
| | | |