Description
Delta Sigma Phi (ΔΣΦ, also known as Delta Sig) is a fraternity established at the City College of New York in 1899 and is a charter member of the North-American Interfraternity Conference. The Fraternity is headquartered in Taggart Mansion located in Indianapolis, Indiana. The mansion was once the home of former Indianapolis mayor and congressman Thomas Taggart and is on the National Register of Historic Places. Delta Sigma Phi was one of the first fraternities at C.C.N.Y. (now C.U.N.Y).
There are 107 actively operating undergraduate chapters and colonies of the Fraternity in 33 states within the Continental United States and Washington, D.C. The Fraternity has previously operated with undergraduate chapters in a number of Canadian provinces though none are active today. Over 115,000 men have initiated into Delta Sigma Phi since 1899. There are currently more than 5,800 undergraduate members and more than 85,000 living alumni members.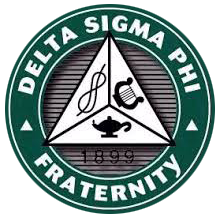 Delta Sigma Phi Seal
History — The Beginnings
At the end of the nineteenth century, most fraternities were exclusively Christian or Jewish, and barred membership to individuals on the basis of religion. When a group of friends at the City College of New York tried to join a fraternity, they were denied membership because their group was composed of Christians and Jews. In response, they organized the first chapter of Delta Sigma Phi on December 10, 1899. The chapter was called Insula due to the chapter's location in Manhattan. In late 1902, with five members from Insula signing incorporation papers, Delta Sigma Phi was incorporated with the purpose to spread "the principles of friendship and brotherhood among college men, without respect to race or creed." By 1903 the fraternity had established chapters at Columbia University and New York University. However even though they were a Jewish and Christian fraternity, there were a few chapters who did not mix. In 1909, eight Jewish men sought membership in the Columbia chapter of Delta Sigma Phi, and were denied it. These men then founded Phi Sigma Delta.
The Founders
Delta Sigma Phi recognizes Charles Tonsor (Christian) and Meyer Boskey (Jewish) as their two primary founding fathers. Although Boskey was one of the original members at the City College of New York and Tonsor was one of the charter members of the chapter at Columbia, it is believed that the fraternity was originally developed by a group of nearly a dozen men. During the short period where men of Jewish faith were barred membership, many of the Fraternity's founding documents were ruined. Given the circumstances, the national organization adopted both Boskey and Tonsor as the "founders" given their lifelong commitment to the fraternity and their service as visionaries for the development of the fraternity's ritual and national expansion.
— Read More History on Delta Sigma Phi on Wikipedia
Delta Sigma Phi (ΔΣΦ)
Founded On: December 10th, 1899 – City College of New York
Type: Social Fraternity
Colors: Nile Green and Carnation White
Flower: White Carnation
Nicknames: DSP-Delta-Sigs-D-Sigs-Delt-Sigs
Chapters: 91 Active Chapters, 16 Colonies
Website: www.deltasig.org
Motto: ΚMelior Men, meliores — "Better Men, Better Lives"
Delta Sigma Phi's Official Flag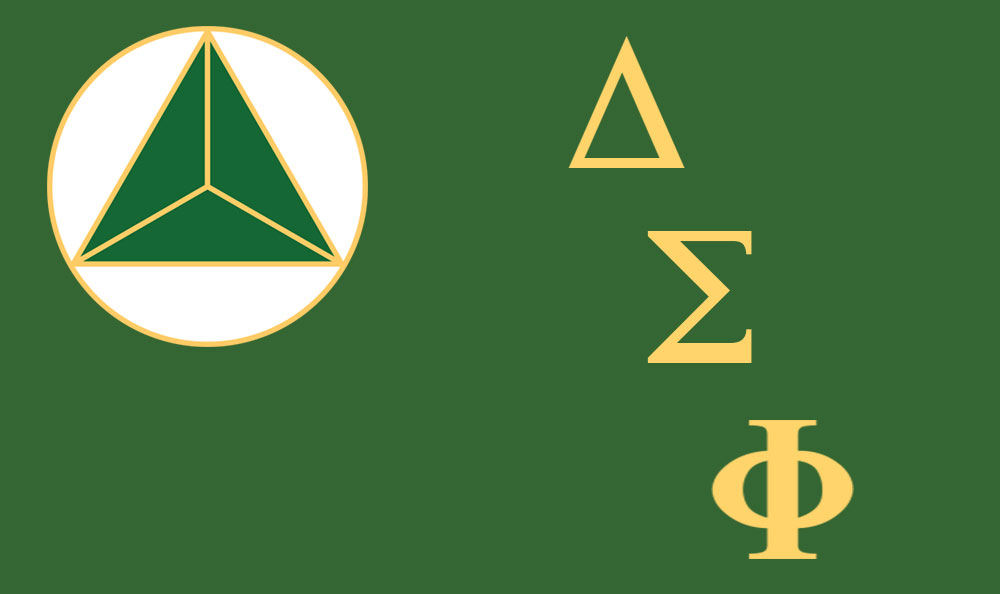 Official Colors
| 1st Color | 2nd Color | 3rd Color |
| --- | --- | --- |
| Nile Green | Carnation White | N/A |
| | | |