Description
Delta Phi (ΔΦ) is a fraternity founded in 1827 at Union College in Schenectady, New York. Founded as part of the Union Triad, along with the Kappa Alpha Society and Sigma Phi Society, Delta Phi was the third and last member of the Triad.
History
Delta Phi and the other fraternities of the Union Triad were established during a time of strong anti-Masonic sentiment in the United States. Because fraternities were secret societies at the time, they also became targets of the anti-Masonic movement. This led Phi Beta Kappa, the original fraternity, to abandon secrecy and become an honor society.
In the early 1830s, Dr. Eliphalet Nott, president of Union College, called for the dissolution of all fraternities. Before this policy could be enacted, John Jay Hyde, a member of Delta Phi, argued the benefits of the fraternity system so convincingly that Nott relented and permitted the organizations to remain in existence. Hyde went on to design the badge still worn by members of Delta Phi, which includes a Maltese Cross, a symbol used by the Knights of Malta.
This connection to the Knights of Malta led Delta Phi to become known as "The St. Elmo Club," a name first used by the Omicron chapter at Yale University, which since has transformed into a senior secret society known as St. Elmo Society. The brothers there used the name of St. Elmo, the patron saint of mariners and the Knights of Malta. Some of Delta Phi's chapter houses are also known as "St. Elmo Hall".
Founders
Benjamin Burroughs, Presbyterian Minister from Savannah, Georgia
William Hun Fondey, Attorney from Albany, New York
Samuel Lewis Lamberson, Presbyterian Minister from Jamaica, New York
Samuel C. Lawrison, United States Navy Surgeon from Pensacola, Florida
David Hervey Little, New York Supreme Court Justice from Rochester, New York
Thomas Clark McLaury, Clergyman from Lisbon, New York
John Mason, Clergyman from Jamaica, New York
Joseph Griffiths Masten, Mayor of Buffalo from Buffalo, New York
William Wilson, President of College of Cincinnati from Ireland
— Read More History on Delta Phi on Wikipedia
Delta Phi (ΔΦ)
Founded On: November 17th, 1827 at Union College
Type: Social Fraternity
Colors: Columbia Blue and White
Flower: N/A
Nicknames: Delta-Phi
Chapters: 13 Active Chapters
Website: www.deltaphifraternity.org
Motto: Semper Ubique — "Always Everywhere"
Delta Phi's Flag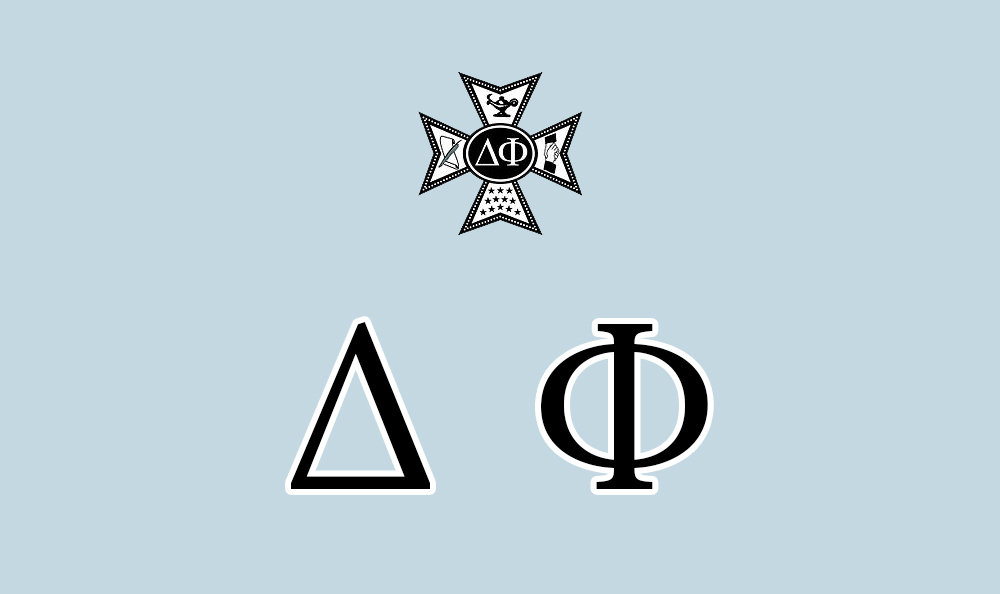 Official Colors
| 1st Color | 2nd Color | 3rd Color |
| --- | --- | --- |
| Columbia Blue | White | N/A |
| | | |