Description
Delta Lambda Phi (ΔΛΦ) is an international social fraternity for gay, bisexual, and progressive men. It offers a social environment and structure similar to other Greek-model college fraternities. The fraternity was founded on October 15, 1986 by Vernon L. Strickland III in Washington, D.C.
The full, corporate name of the fraternity is Delta Lambda Phi Social Fraternity, but it is commonly referred to as "DLP" by its members. As of 2007, DLP was one of the fastest growing fraternities in the United States.
History
Delta Lambda Phi was founded in Washington, D.C. on October 15, 1986 by Vernon L. Strickland III, a law student at Georgetown University. Strickland had been acting as informal legal counsel to another student who had been denied fraternity membership due to the presumption that he was gay. When Strickland became aware of other examples of this, he began organizing a fraternity with more welcoming model. The fraternity was incorporated in D.C. on September 10, 1987.
Membership
Delta Lambda Phi's membership is open to all men whether they are gay, bisexual, transgender, or straight.
There are three types of chapters: campus-based, multi-campus based, and community based. Campus and multi-campus chapters are generally open to male college-aged students who live in the area. Community-based chapters do not require their members to be students. Delta Lambda Phi strictly prohibits hazing and adheres to an extensive, fraternity-wide Risk Management Policy.
Delta Lambda Phi has been a member of the North American Interfraternity Conference (NIC) since 2013. The fraternity was the first (and as of 2013 only) cultural interest fraternity for gay, bisexual, transgender, and progressive men to join.
— Read More History on Delta Lambda Phi on Wikipedia
Delta Lambda Phi (ΔΛΦ)
Founded On: October 15, 1986; Washington, D.C.
Type: Social Fraternity
Colors: Green, Gold, and White
Flower: Yellow Rose
Nicknames: DLP-Delta-Lambda-Phi
Chapters: 31 Chapters, 70 Charters
Website: www.dlp.org
Motto: De nostra praesentia facere DIFFERENTIA — "Making Our Presence Make a Difference"
Delta Lambda Phi's Official Flag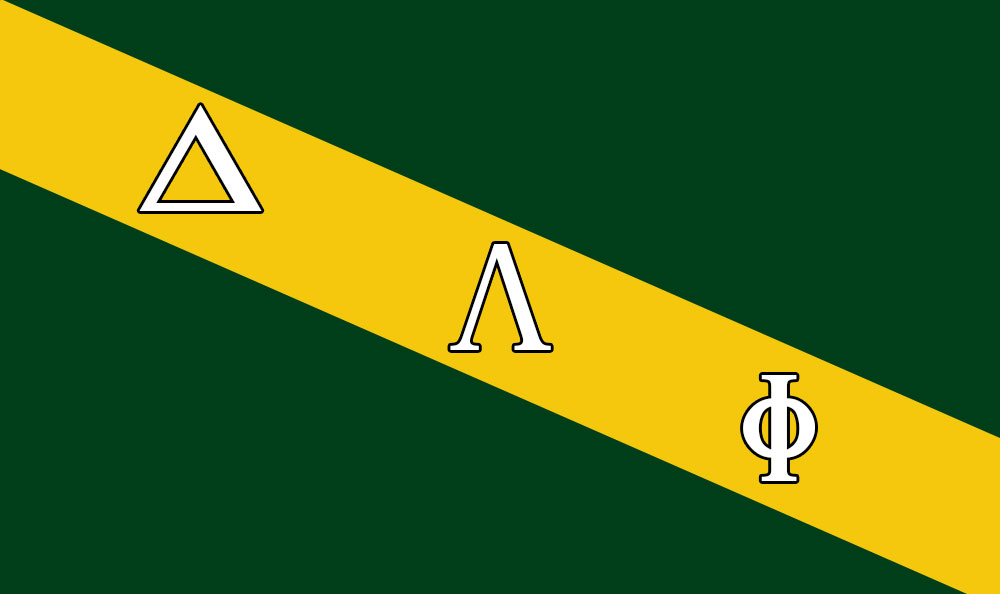 Official Colors
| 1st Color | 2nd Color | 3rd Color |
| --- | --- | --- |
| Green | Gold | White |
| | | |