Description
Beta Sigma Psi National Lutheran Fraternity (ΒΣΨ) is a pan Lutheran fraternity and the oldest Christian fraternal organization in the United States of America. Founded at the University of Illinois in 1925, ΒΣΨ has more than 7,500 initiated members. With 10 chapters and colonies in 7 states, there are currently over 300 undergraduate members. Beta Sigma Psi is centered on three S's: Spiritual, Scholastic, and Social.
Purpose
The Purpose of Beta Sigma Psi National Lutheran Fraternity:
To provide an environment in which the Lutheran college man can grow spiritually, scholastically, and socially. To that end Beta Sigma Psi undertakes programs designed to develop Christian leaders and to aid the individual in assuming a satisfying and useful role in society. Through its alumni and undergraduate leadership Beta Sigma Psi endeavors to assist each member:
Develop Character
Develop Intellectual Awareness
Develop Social Responsibility to Chapter, College, Community, State, Nation, and World
Develop Spiritual Welfare
Develop Brotherhood
Develop Integrity
Promote Friendship
Advance Justice
Founding History
Beta Sigma Psi was founded as a national fraternity for Lutheran students on April 17, 1925. The Fraternity had its origins in the concerns of a Lutheran pastor for students who had been entrusted to his spiritual care at the University of Illinois.
The Rev. Frederick William Gustav Stiegemeyer, the son of a Lutheran pastor, was born on January 16, 1878 in a parsonage in Dubuque, Iowa. Early in his life, he decided to follow his father's footsteps and serve the Lord. He received his college education at Concordia College in Ft. Wayne, Indiana, and prepared for the ministry at Concordia Seminary in St. Louis, Missouri.
The Rev. Stiegemeyer served his congregations faithfully, serving churches in Ohio, West Virginia, and Illinois. In 1911, he accepted a call to St. John's Evangelical Lutheran Church in Champaign, Illinois. As part of his ministry, he was to serve the students at the University of Illinois.
In the fall of 1919, he organized the Lutheran Illini League with a nucleus of ten students. At that time their intentions was to do no more than meet once or twice a week for religious instruction and discussion on contemporary issues. In the fall of 1920, now with twenty members, the Lutheran Illini League rented a house, and in early 1921 was reorganized as the Concordia Club.
By 1923 the group regularly participated in campus activities; so much so that they began being referred to as the "Concordia Fraternity." This was among the circumstances that encouraged some of the members to give serious thought to once again reorganizing and making it part of the university's fraternity system. Meetings were held, and plans were laid to organize as a new national fraternity.
Those men who worked on these plans were convinced that they would create a National Lutheran fraternity that would maintain all the noble aspirations of the early Concordia Club founders. Those who shared this conviction were:
Harold Ahlbrand
Wilbur E. Augustine
Norbert W. Behrens
Herman H. Gilster
Arden F. Henry
Russell Henry
Julius J. Seidel
Rev. Stiegemeyer
William H. Welge
These men, considered the founding fathers of Beta Sigma Psi, decided to act in the spring of 1925. Incorporation papers were filed for Beta Sigma Psi National Lutheran Fraternity on April 17, 1925 in Springfield, Illinois.
— Read More History on Beta Sigma Psi on Wikipedia
Beta Sigma Psi (ΒΧΘ)
Founded On: April 17, 1925; 89 years ago University of Illinois
Type: Social, Religious
Colors: Cardinal Red and White
Flower: Gold Rose
Nicknames: Beta Sigs
Chapters: 11 in the United States
Website: www.betasigmapsi.org
Motto: Per Aspera Ad Astra — "Through difficulties to the stars"
Beta Sigma Psi's Flag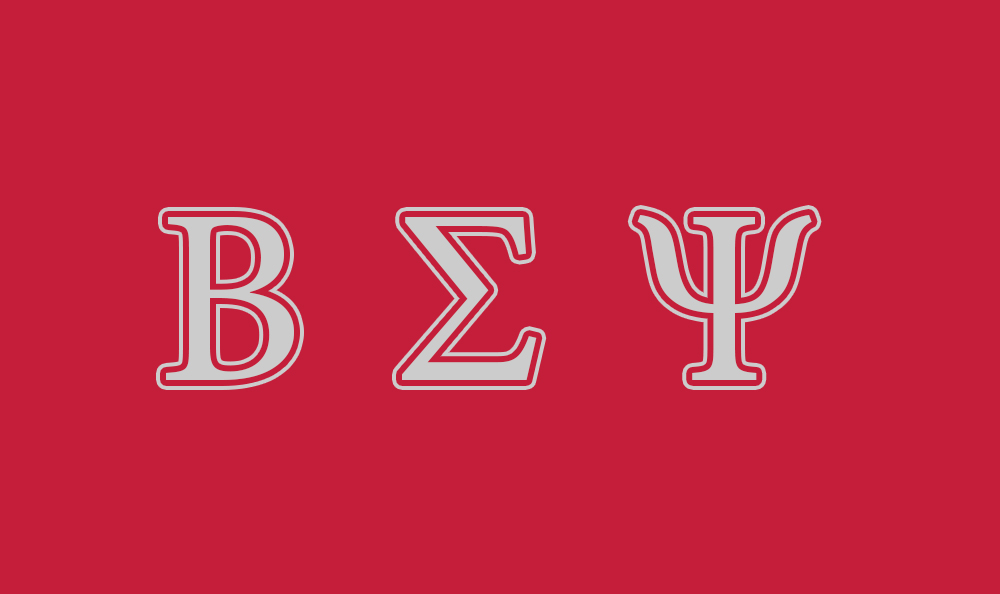 Official Colors
| 1st Color | 2nd Color | 3rd Color |
| --- | --- | --- |
| Cardinal Red | White | N/A |
| | | |