Description
Beta Chi Theta (ΒΧΘ) is a national South Asian interest fraternity, established in 1999 at the University of California, Los Angeles (UCLA). On June 2, 1999, Beta Chi Theta was formally acknowledged by the university and granted membership into the UCLA Inter-Fraternity Council (IFC). Beta Chi Theta was originally founded by 8 young men and today has active chapters and colonies located all over the United States. The founding principles which support and give purpose to Beta Chi Theta are: creating and maintaining a strong, close-knit brotherhood, honoring tradition, actively pursuing service to humanity, increasing South Asian awareness, promoting academic excellence, and building a unified nationwide network.
National Founding Fathers
ΒΧΘ Founding Fathers

| | |
| --- | --- |
| Brother Abu Abraham | Brother Hashu Datwani |
| Brother Samir Khandhar | Brother Ankur Kumar |
| Brother Ashish Nagdev | Brother Ankur Parikh |
| Brother Roshan Patel | Brother Ali Zhumkhawala |
Philanthropy
Beta Chi Theta actively seeks to promote service to humanity through active engagement within the local communities of its respective chapters and colonies. Service to humanity is one of the six pillars that defines the foundation of the organization. Brothers across the country participate in service both directly and indirectly through organizational activities. The fraternity encourages members to give back to the community in which they are fostered, help those in need, and mentor those who look up to them.
Nationally, regionally, and locally, Beta Chi Theta works with many non-profit organizations to support numerous causes that bind them together as a brotherhood. They believe that through outreach they can impact the lives of many around them and simultaneously become closer to one another.
Currently, the fraternity has two national philanthropy initiatives: Be the Change and Beating Heart Disease.
Beating Heart Disease
In 2009, it was voted that the fraternity's national philanthropy would be cardiac health awareness and research fundraising since it is the number one cause of death in not only the United States, but the world, and it is also especially rampant amongst the South Asian population. Since then, they have partnered with American Heart Association to teach communities across the country on how to live a heart-healthy lifestyle and also to raise money for cardiac research and education. The Beating Heart Disease program is a string of week long events thrown in the spring of every year by chapters and colonies in an effort to educate young students on cardiac health and also to raise money for American Heart Association. An additional aspect of this partnership involves the participation of brothers in Heart Walks, which are hosted annually across the nation by American Heart Association. In 2014, Beating Heart Disease became a registered trademark.
Be The Change
In addition, the brothers of Beta Chi Theta have partnered annually with SAALT (South Asian Americans Leading Together) to host Be The Change Days of Service on university campuses across the nation. Be The Change is an annual occurrence in the fall of each year that pays tribute to the life of Mahatma Gandhi. Gandhi once said to "be the change you wish to see in the world." This partnership with SAALT allows the members of the fraternity to recruit people for volunteer work in their circles and positively influence their communities.
— Read More History on Beta Chi Theta on Wikipedia
Beta Chi Theta (ΒΧΘ)
Founded On: June 2nd, 1999 — UCLA
Type: Social Fraternity
Colors: Black, Silver, and White
Flower: N/A
Nicknames: Beta-Chi-Theta
Chapters: 17 Chapters, 8 Colonies
Website: www.betachitheta.com
Motto: Πάνω από όλα, Αδελφότητα — "Above All Else, Brotherhood"
Beta Chi Theta's Flag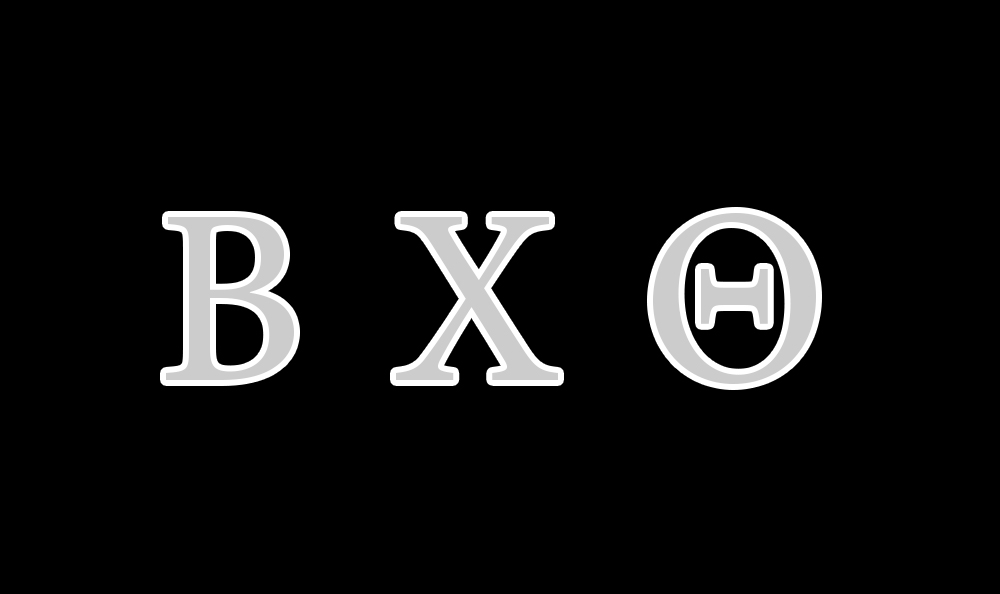 Official Colors
| 1st Color | 2nd Color | 3rd Color |
| --- | --- | --- |
| Black | Silver | White |
| | | |