Description
Alpha Sigma Phi Fraternity and Foundation (ΑΣΦ, commonly abbreviated to Alpha Sig) is a fraternity with 91 active chapters, 29 colonies, and 5 interest groups. Founded at Yale in 1845, it is the 10th oldest fraternity in the United States.
The fraternity practices many traditions. Their Latin motto is, Causa Latet Vis Est Notissima ("The cause is hidden, the results well-known"). The fraternity's official symbol is the phoenix, as the phoenix rises from the ashes of its old body, signifying the re-founding of the fraternity in the early 1900s. Due to active expansion efforts, Alpha Sigma Phi continues to offer services and opportunities to over 2,500 undergraduate students and 70,000 living alumni
Founding History
Alpha Sigma Phi was founded by three men at Yale College in 1845 as a secret sophomore society composed of many of the school's poets, athletes, and scholars. Upon rising through the ranks of the school, members shared membership with Alpha Sigma Phi in Skull and Bones and Scroll and Key.
The founders of Alpha Sigma Phi were:
Louis Manigault was the son of Charles I. Manigault, a wealthy rice planter from South Carolina who traced his ancestry to a Huguenot refugee who fled from Louis XIV's persecution and came to America in 1691. He served in the American Civil War as assistant to the Confederate Surgeon General. Moreover, he was a prominent plantation and slave owner in South Carolina.
Stephen Ormsby Rhea was the son of John Rhea, an important cotton planter of Louisiana who helped open the disputed territory of West Florida and made it a part of the U.S. and state of Louisiana.
Horace Spangler Weiser, of York, Pennsylvania, was a descendant of Conrad Weiser, also a refugee from Europe who became famous in the French and Indian War, representing several colonies in treaty negotiations with Native Americans.
Manigault and Rhea met at St. Paul's Preparatory School near Flushing, New York, where both were members of the same literary society and were preparing themselves for admission to Yale. Weiser attended a private school in New Haven, and he met Rhea early in his freshman year, who introduced him to Manigault.
Once at Yale, Manigault and Rhea became members of Yale's Calliopean Literary Society, and Weiser was a member of the Linonian Literary Society. Manigault was very much interested in the class society system at Yale and noted the class fraternities provided experience for their members and prepared them for competition in literary contests. The sophomore class there had only one society, Kappa Sigma Theta, which displayed an attitude of superiority toward non-fraternity men.
Manigault revealed to his friends Rhea and Weiser a plan for founding another sophomore society. Rhea agreed and enlisted Weiser to become the three founders of Alpha Sigma Phi. Their first official meeting was held in Manigault's room on Chapel Street on December 6, 1845. The constitution and ritual were then written and the fraternity pin was designed. The first pledge class, of 14 members, was initiated on June 24, 1846.
After the birth of Alpha Sigma Phi, an intense rivalry began with Kappa Sigma Theta. The rivalry expressed itself in their publications, Kappa Sigma Theta's "The Yale Banger" and Alpha Sigma Phi's "The Yale Tomahawk." In 1852, the editors of The Tomahawk were expelled after violating faculty orders to cease publication. However, the rivalry between the organizations continued until 1858, when Kappa Sigma Theta was suppressed by the faculty
— Read More History on Alpha Sigma Phi on Wikipedia
Alpha Sigma Phi (ΑΣΦ)
Founded On: December 6th, 1845 at Yale University
Type: Social Fraternity
Colors: Cardinal and Stone
Flower: Cardinal Rose and Yellow Tea Rose
Nicknames: Alpha-Sig-Alpha-Sigma-Phi
Chapters: 91 Active, 29 Colonies, 5 Interest Groups, (118 Total)
Website: www.alphasigmaphi.org
Motto: Causa Latet Vis Est Notissima — "The cause is hidden, the results well-known"
Alpha Sigma Phi's Flag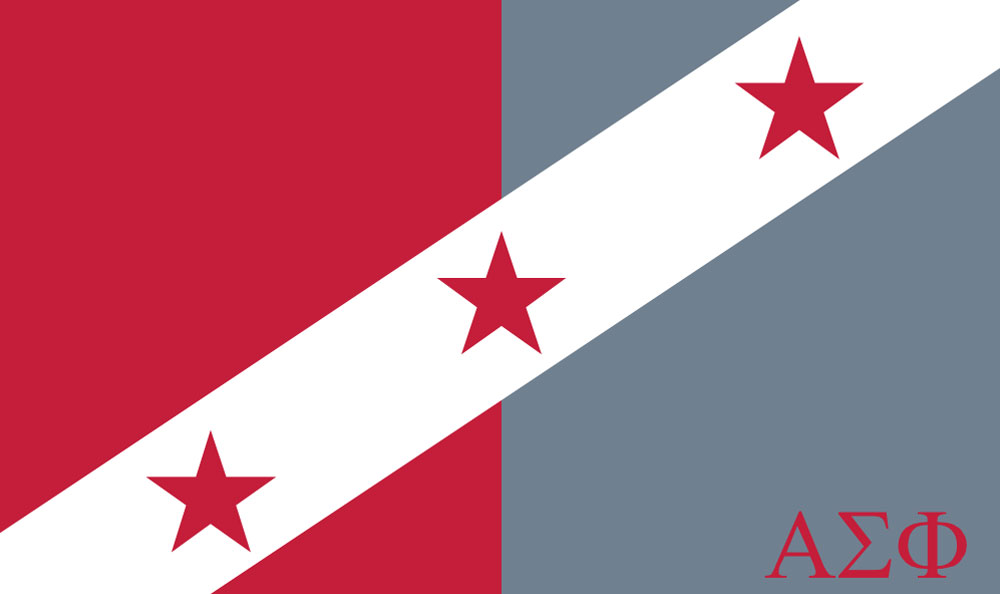 Official Colors
| 1st Color | 2nd Color | 3rd Color |
| --- | --- | --- |
| Cardinal | Stone | N/A |
| | | |