Description
Alpha Phi Delta (ΑΦΔ), commonly referred to as APD, is a Greek social fraternity that evolved from an exclusive Italian society (Il Circolo Italiano) at Syracuse University in 1914. There were seven founding members who strove to create a brotherhood that would last long after their college days. Soon after founding, Alpha Phi Delta spread from Syracuse and became a National Fraternity. Alpha Phi Delta is traditionally an Italian-American heritage Fraternity; however, since September 2, 1965 it has welcomed young men of all racial backgrounds.
The Founding Years
The Formation of Alpha Phi Delta at Syracuse — Nicholas Frunzi, a member of Il Circolo Italiano, proposed the concept of a fraternity. His idea was met with enthusiasm by the group. On November 5, 1914, seven men took the oath and became the first brothers of Alpha Phi Delta Fraternity. These founding fathers were: Joseph Cangiamila, Dominic T. Ciolli, Ferdinand F. DiBartolo, Otto Gelormini, Cesidio A. Guarini, Anthony T. Frascati and Nicholas Frunzi. Ferdinand DiBartolo, an instructor at the time, requested permission to establish the Fraternity at Syracuse University. The college's administration enthusiastically support the idea.
A Fraternity at Columbia University — Six months later, 300 miles away in New York City, a similar realization of the need for a fraternity was crossing the minds of the members of Il Circolo Italiano at Columbia University. An attempt to form such a fraternity failed in May of 1915. In the fall of 1915, four close and staunch friends, Ernest DeMuria, Salvatore LaCorte, William Liccone and Anthony Pascarella decided to organize a fraternity. With support and encouragement from college administrators, the students founded Sigma Gamma Phi fraternity in November 1915.
The Birth of Alpha Phi Delta as a National Fraternity — Nicholas Frunzi transferred to Columbia University in January 1916. He met Sigma Gamma Phi and correspondence started between the two fraternities. A merger meeting was held in June 1916 at Syracuse University. Since the Syracuse fraternity was formed earlier, their name, Alpha Phi Delta, was adopted. At this point Syracuse was declared the Alpha Chapter and Columbia, the Beta Chapter.
In the first showing of national fraternal spirit, the men from Syracuse rallied around Salvatore LaCorte and William Liccone, both from Beta, as Grand Consul (President) and Grand Quaestor (Treasurer), respectively. They were elected unanimously, along with Otto Gelormini of Alpha as Grand Tribune (Secretary).
— Read More History on Alpha Phi Alpha on Wikipedia
Alpha Phi Delta (ΑΦΔ)
Founded On: November 5th, 1914 at Syracuse University
Type: Social
Colors: Royal Purple and White
Flower: Garafano
Nicknames: APD-Alpha-Phi-Delta
Chapters: 95 Chapters
Website: www.apd.org
Motto: Faciamus — "We Do"
Alpha Phi Delta's Flag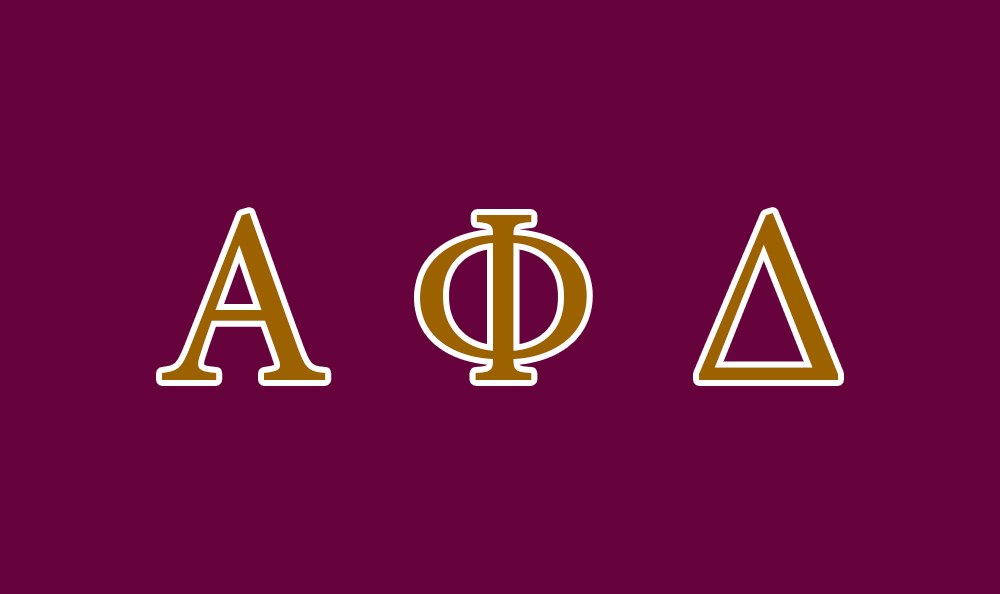 Official Colors
| 1st Color | 2nd Color | 3rd Color |
| --- | --- | --- |
| Royal Purple | White | N/A |
| | | |