Description
Alpha Gamma Rho (ΑΓΡ) is a professional-social, agriculture fraternity in the United States, currently with 71 university chapters.
Founding
The fraternity considers the Morrill Act of 1862 to be the instrument of its inception. Having been signed by President Abraham Lincoln in 1862, it provided land and other financial supports to establish one institution of higher learning in the agricultural and mechanical sciences within each state. Alpha Gamma Rho, referred to as "AGR", was founded when two local fraternities from Ohio State University (Alpha Gamma Rho, founded 1904) and the University of Illinois (Delta Rho Sigma, founded in 1906) met at an International Livestock Competition in Chicago. Sixteen men originally signed the fraternity's charter at the Claypool Hotel in Indianapolis on April 4, 1908. Expansion increased dramatically over the next three decades to almost all land-grant universities in the country. The first chapter at a non-land-grant university was chartered in 1958 at Arizona State University. The first non-state (private) associated chapter (Beta Psi) was at Delaware Valley College in Doylestown, PA.
About AGR
Alpha Gamma Rho isn't like other fraternities. In AGR you'll get the opportunity to experience both a social and a professional fraternity. AGR does what you expect a social fraternity to do: socialize with other students on campus and people in the community. AGR is also like other social fraternities in that it has a strong group of members and a house you can live in during your college years. But AGR is more than just one of those strictly social fraternities; it is also a professional fraternity. All members of AGR have related career interests. AGR is for young men pursuing any career related to the agriculture, food or fiber industries. One more difference: at AGR there's no pledging. You join as an equal member. AGR does a careful review of all potential members in advance, so there's no need for a "weeding out" process.

— Read More History on Alpha Gamma Rho on Wikipedia
Alpha Gamma Rho (ΑΓΡ)
Founded On: 1904 at The Ohio State University
Type: Social-Professional Fraternity
Colors: Emerald Green and Harvest Gold
Flower: Pink Rose
Nicknames: AGR-Agriculture
Chapters: 75 Chapters
Website: www.alphagammarho.org
Motto: No one could tell me where my soul might be; I searched for God, but He eluded me; I sought my brother out and found all three. — Poet Howard Crosby
Alpha Gamma Rho's Flag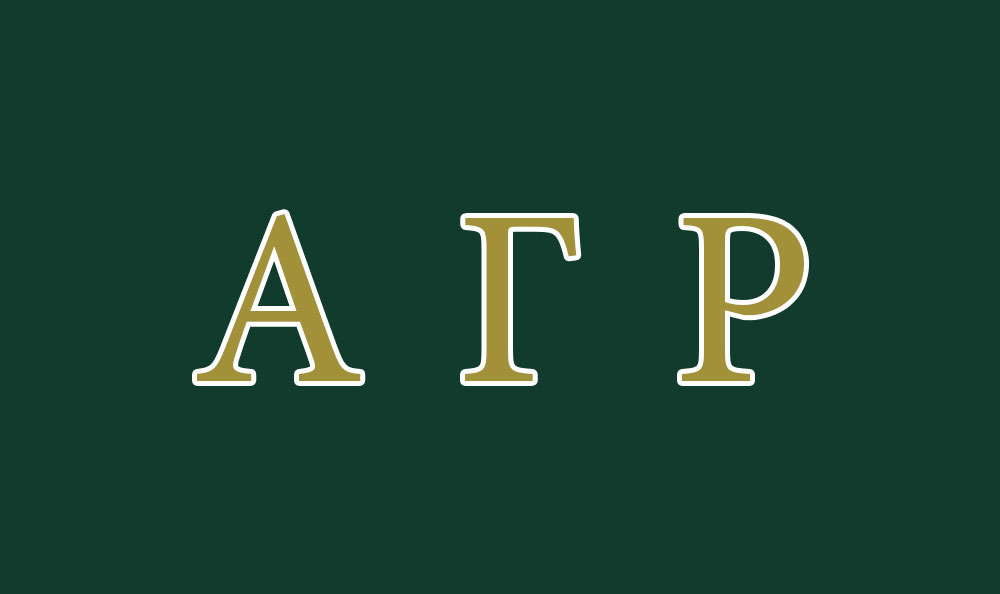 Official Colors
| 1st Color | 2nd Color | 3rd Color |
| --- | --- | --- |
| Emerald Green | Harvest Gold | N/A |
| | | |