Description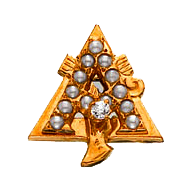 Kappa Alpha Order Badge
Alpha Gamma Delta (ΑΓΔ) is an international women's fraternity, founded in 1904 at Syracuse University. The Fraternity promotes academic excellence, philanthropic giving, ongoing leadership and personal development, and a spirit of loving sisterhood. Also known as "Alpha Gam", Alpha Gamma Delta's current membership exceeds 150,000. There are currently 182 collegiate chapters, and over 250 alumnae clubs. The longest running active collegiate chapter is Delta Chapter at the University of Minnesota. However, since recolonization in 2010, the oldest active collegiate chapter is the Alpha Chapter at Syracuse University. Alpha Gamma Delta is a member of the Syracuse Triad along with Gamma Phi Beta and Alpha Phi.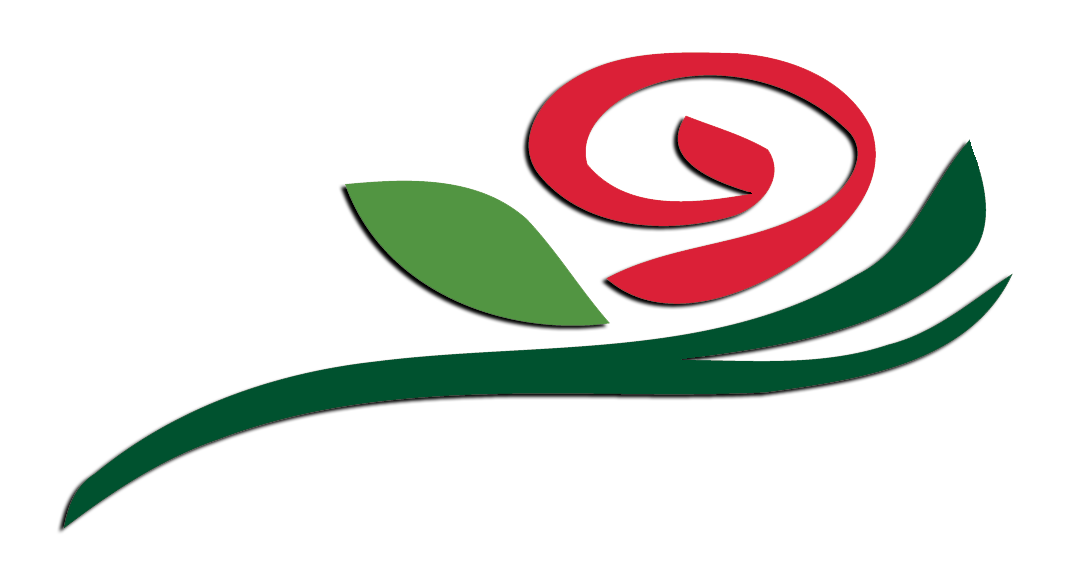 History
Alpha Gamma Delta was officially founded on May 30, 1904 at the home of Dr. Wellesley Perry Coddington, a professor at Syracuse University who was instrumental in the early development of Alpha Gamma Delta. Each of the Fraternity's 11 founders were progressive women who selflessly contributed to the foundation and growth of Alpha Gamma Delta.These eleven female students were Marguerite Shepard, Estelle Shepard Beswick, Georgia Alberta Dickover, Jennie Titus Smith Morris, Ethel Evelyn Brown Distin, Grace Mosher Harter, Edith MacConnel Hickok, Mary Louise Snider, Georgia Otis Chipman, Emily Helen Butterfield and Flora Knight Mayer.
The organization's official designation as a "fraternity" rather than a "sorority" (often seen in the names of women's groups) derives from an early advisor, who noted that soror is a Latin word with no connection to the Greek traditions cited by many collegiate social groups like Alpha Gamma Delta. Many other Greek-letter organizations for women likewise refer to themselves as fraternities, though in the collective sense are generally called "sororities". The intent behind Alpha Gamma Delta's founding differed from other groups because it was founded to become a National Women's Fraternity rather than a local group or literary society.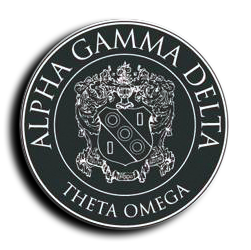 Alpha Gamma Delta
Badge – Seal (Mockup)
Symbols
While Alpha Gamma Delta does not have any official symbols, it does have official flowers, jewels, and colors. AGD's flowers are red and buff roses, with green asparagus plumosa fern. The jewel is the pearl. The colors are red, buff, and green. The armorial bearings of the fraternity was designed by founding member Emily Helen Butterfield in 1906.
Alpha Gamma Delta does have a mascot, a squirrel. The original mascot was given the name Skiouros. He was chosen by Gamma chapter in 1915 with the following explanation: "In the days when Gamma first made the triple colors of red, buff, and green her own, some of her energetic number sought a mascot to symbolize the characteristics of the colors and progress of Alpha Gamma Delta. In the autumn tints, so beautifully dear to us, they received the suggestion, and the little squirrel, typical frequenter of autumn haunts, was chosen as the mascot. Our little friend, we find, is also nimble and agile–he leaps from branch to branch and accomplishes such progress to symbolize the spirit that never dies, the spirit of energetic alertness and progress."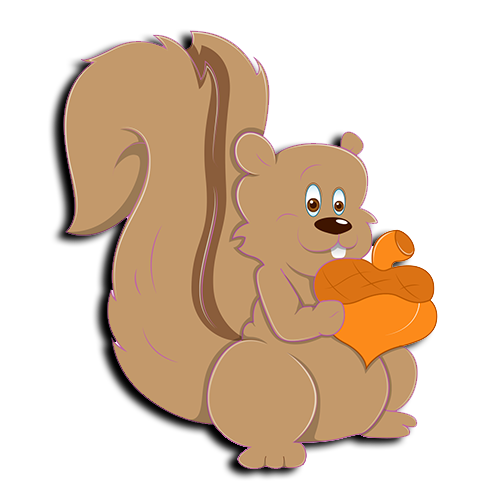 Alpha Gamma Delta
Mascot – Squirrel
Philanthropy
Alpha Gamma Delta's National charity is the Alpha Gamma Delta Foundation. The Alpha Gamma Delta Foundation was created in 1962 ensuring that the Fraternity's mission would live on into Alpha Gamma Delta's second century, It assists members through scholarship grants, wellness programs, leadership training and workshops. It also assists members in emergency financial need. The emergency financial needs provided to members are known as "sister grants" where money from the foundation go out to members of the fraternity form all over the country who need emergency funding. The Alpha Gamma Delta Foundation is particularly devoted towards research surrounding Juvenile Diabetes. The Foundation makes grants to organizations and individuals for diabetes awareness and education. Diabetes research was chosen to be the focus of the foundation as diabetes "continues to affect our members and their friends, families and acquaintances." In 2011, the Delta Rho chapter at Sonoma State University was the top contributing chapter of the Alpha Gamma Delta Foundation, donating over $14,000 solely from their annual philanthropic event, Lip Jam.
Mission
Alpha Gamma Delta is an international fraternity for women that exists to provide opportunities for personal development through the spirit of sisterhood:
To support lifelong learning as a means to gain understanding and wisdom.
To promote the value of fraternal membership and commitment to higher education.
To help prepare members to contribute to the world's work.
To advocate lifetime involvement in Alpha Gamma Delta.
Its vision is "Live with Purpose."
— Read More History on Alpha Gamma Delta on Wikipedia
Alpha Gamma Delta (ΑΓΔ)
Founded On: May 30, 1904 – Syracuse University, (Syracuse, New York)
Type: Social Sorority
Colors: Red, Buff, and Green
Flower: Red and Buff Roses with Green Asparagus Plumosa Ferns
Nicknames: Alpha-Gam-AGD
Chapters: 190 Chapters
Website: www.alphagammadelta.org
Motto: Inspire η γυναίκα. Επιπτώσεις στον κόσμο  — "Inspire the Woman. Impact the world"
Alpha Gamma Delta's Flag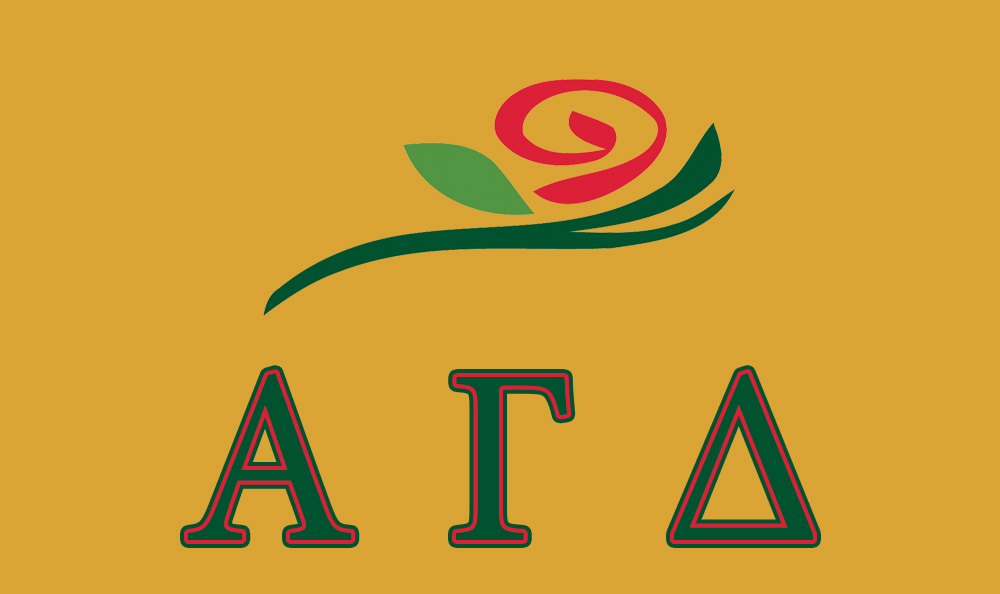 Official Colors
| 1st Color | 2nd Color | 3rd Color |
| --- | --- | --- |
| Red | Buff | Green |
| | | |