Description
Alpha Epsilon Phi (ΑΕΦ) is a sorority and member of the National Panhellenic Conference. It was founded on October 24, 1909 at Barnard College in Harlem, New York City by seven Jewish women; Helen Phillips Lipman, Ida Beck Carlin, Rose Gerstein Smolin, Augustina "Tina" Hess Solomon, Lee Reiss Liebert, Rose Salmowitz Marvin, and Stella Strauss Sinsheimer. The mission of Alpha Epsilon Phi Sorority is "to inspire and support exemplary women dedicated to friendship and a lifelong commitment to Alpha Epsilon Phi while building on the vision of our Jewish founders." It is a national sorority, meaning it has multiple chapters across the United States, rather than a local sorority, meaning it has strictly one site location and chapter. Although it is a historically Jewish sorority, it is not a religious organization and welcomes women of all religions and race who honor, respect and appreciate the Jewish faith and identity and are comfortable in a Jewish milieu to pledge for sisterhood.
History
Out of a desire for friendship, mutual understanding and respect for the high ideals of womanhood, Alpha Epsilon Phi was founded. Seven Jewish Barnard College women met one day in 1909 to found a "club" where they could foster their aims and desires and became the founders of Alpha Epsilon Phi. At the time, not all sororities allowed Jewish women to join organizations. They were discriminated against and asked to make separate organizations. The discrimination was frustrating for Helen, above all others, and fostered the idea for forming their own chapter, promising friendship and sisterhood. The club encouraged community service, academic presence on campuses, an increased and positive social presence and reputation, and providing a "college home and family" for each of its sisters. This idea was the firm basis upon which Alpha Epsilon Phi was founded. ""It was her
[Helen Phillips'] idea and her persistence more than anything else that brought Alpha Epsilon Phi into existence," one founder wrote. "I sometimes think that some of those ties were more necessary to Helen than to the others in this group because Helen had no mother and no sisters or brothers, and to her a group of adopted sisters was more of a need and had more significance."
In the early 1900s a college education for a woman was quite rare. However, in 1907 Barnard College opened its door and young ladies from well-to-do families came to continue their high school studies. There were seven: Helen Phillips, Ida Beck, Rose Gerstein, Augustina Hess, Lee Reiss, Stella Strauss and Rose Salmowitz. Helen Phillips was the one who really inspired the idea of forming a club. She wanted some material thing to keep in closer contact with her friends. Helen suggested that the others meet in her room and discuss the possibilities of such a club. And so, on October 24, 1909, Alpha Epsilon Phi came into being. The other women met in Helen's room were not chosen because of any special scholastic prominence, financial circumstances or other arbitrary standards, but because they had a common heritage, shared common interests and were imbued with the ideals of true friendship. Still today are Helen, Ida, Rose, Augustina, Lee, Stella and Rose heroes and inspirations for Alpha Epsilon Phi chapters across the nation.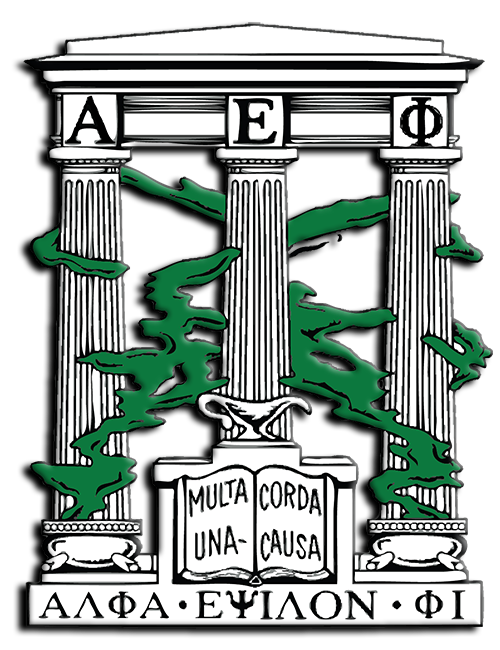 Alpha Epsilon Phi
Symbol/Crest — Ancient Greek Columns
Symbols
Crest — The columns of Alpha Epsilon Phi were added in 1916, the sorority's seventh year in existence. It was decided to create a simple insignia as opposed to an elaborate crest like that of most other Greek letter organizations. Each column of the insignia holds special significance to the members. The three columns Α, Ε and Φ represent faculty approval, student esteem and sorority fidelity, in order.
Gem — The pearl was chosen as the national gem by the founders. They chose the pearl because of its glowing beauty gained through years of growth and the fact that it is a jewel that literally grows. "Pearls" are symbols for philanthropic events sisters participate in. Different activities or events have a different value of pearls; you earn them as you participate in philanthropies.
Badge — Each woman that has progressed from new member into sister receives a 24 karat gold badge with A. E, and Φ, on the front with 27 pearls. Α has 8 pearls, Ε has 9 pearls, and Φ has 10 pearls. On the back are the new sister's initials, marking it her own.
Colors — The Colors of green and white were also chosen in the beginning by the founders. They represent growth and fellowship, respectively.
Flower — The Symbol of Alpha Epsilon Phi which can be directly attributed to the founders is the flower. The lily of the valley was selected for its simple beauty and for the fact that it is green and white. The lily of the valley's Hebrew translation is "shoshannat-ha-amaqim."
Mascot — At the 1977 National Convention The Giraffe was chosen as the mascot for Alpha Epsilon Phi. It was suggested as the mascot by sisters of the Alpha Kappa Chapter at Miami University. It stands the tallest and has the largest heart.
Open Motto — Multa Corda Una Causa… Many Hearts One Purpose was chosen as the open motto in the early years of the sorority because it best expressed the intentions of the founders of Alpha Epsilon Phi. Alpha Epsilon Phi sisters have a handshake to great one another, proving sister's are actual members of the sisterhood.
Tag Line — In 2001, the sorority unveiled its updated image, complete with a new tag line: Above All Else. In full, the "Core Values Statement" is as follows: Above all else, Alpha Epsilon Phi inspires exemplary women who are: Enriched by sisterhood and unconditional friendships, Dedicated to selfless service and inspiring others, and Committed to intellectual growth and personal development. As a lifelong member of Alpha Epsilon Phi, I will: Respect our shared heritage and traditions, Exhibit high ideals and moral character, Fulfill expectations and responsibilities of membership, and Continually exemplify the values of beauty, strength and wisdom as embodied by the three columns of our insignia.
Magazine — "Columns" is the official magazine of Alpha Epsilon Phi and published biannually in the fall and spring seasons. It is sent to collegians, alumnae volunteers, donors, subscribers, interfraternal partners and friends, and fraternity and sorority professionals and vice presidents of student affairs on campuses with AEPhi chapters. Families contribute to Columns to sponsor philanthropic events and activities that current members, alumnae, family members, and friends can participate in from Atlantic to Pacific.
Debuting as "Alpha Episilon Phi Quarterly" publication in November 1917, the magazine began with news, awards sisters' received, sisters in the media, and more. The title was changed to "Columns" in the late 1920s.
— Read More History on Alpha Epsilon Phi on Wikipedia
Alpha Epsilon Phi (ΑΕΦ)
Founded On: October 24th, 1909 – Barnard College
Type: Social Sorority
Colors: Green and White
Flower: Lily of the Valley
Nicknames: AEPhi-Alpha-Epsilon-Phi
Chapters: 49 Chapters
Website: www.aephi.org
Motto: Multa Corda, Una Causa…  — "Many Hearts, One Purpose"
Alpha Epsilon Phi's Flag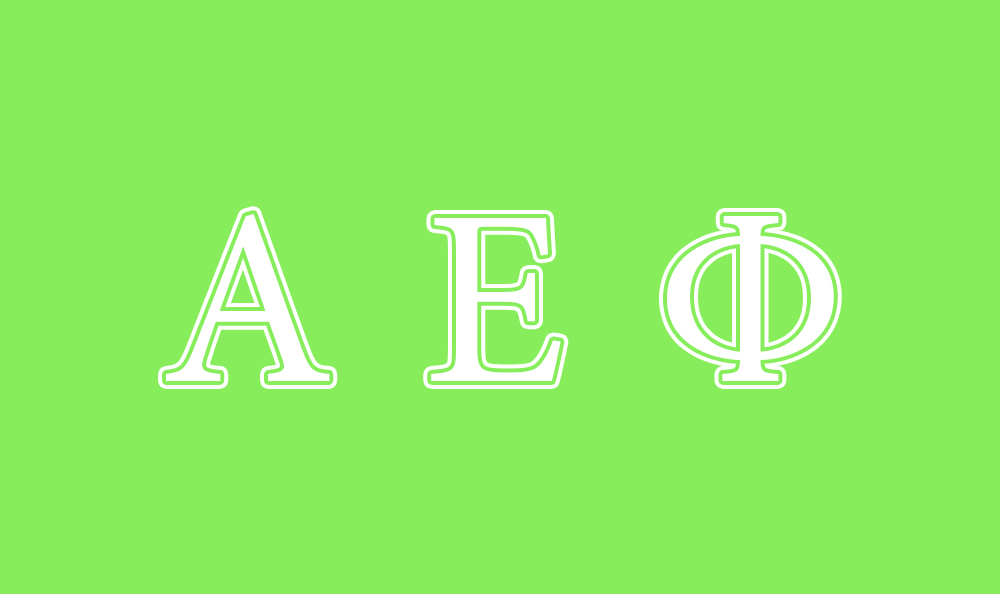 Official Colors
| 1st Color | 2nd Color | 3rd Color |
| --- | --- | --- |
| Green | White | N/A |
| | | |