Description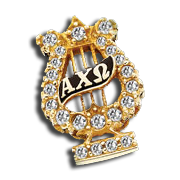 Alpha Chi Omega Badge
Alpha Chi Omega (ΑΧΩ, also known as Alpha Chi) is a women's fraternity founded on October 15, 1885. Currently, there are 139 chapters and Alpha Chi Omegas represented throughout colleges and universities across the United States, and there are more than 200,000 lifetime members. Diane Wilson Blackwelder is currently the National President of Alpha Chi Omega and oversees all collegiate and alumnae chapters in the nation. Alpha Chi Omega's official symbol is the three-stringed lyre.
History
Alpha Chi Omega was formed at DePauw University in Greencastle, Indiana on October 15, 1885.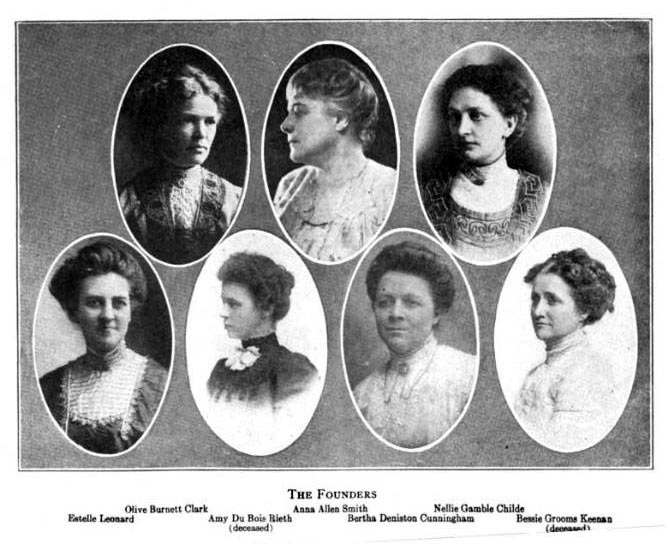 [/fusion_tooltip]
Alpha Chi Omega – The Founders
In the fall of 1885, Professor James Hamilton Howe, the first Dean of the Music School, invited seven young women from the school to a meeting with the purpose of forming a fraternity. Those young women were Anna Allen, Olive Burnett, Bertha Deniston, Amy DuBois, Nellie Gamble, Bessie Grooms, and Estelle Leonard. Howe himself was not a member of a Greek fraternity, so he consulted with James G. Campbell, a Beta Theta Pi, on the proper procedures for founding a national-based fraternity. Campbell was thus responsible for laying out the first constitution and by-laws. This first constitution read: "The object of this fraternity is as follows: To attain the highest musical culture and to cultivate those principles that embody true womanhood." On February 26, 1886, the fraternity was given its formal introduction by a soiree musical.
Alpha Chi Omega joined the National Panhellenic Conference in 1903.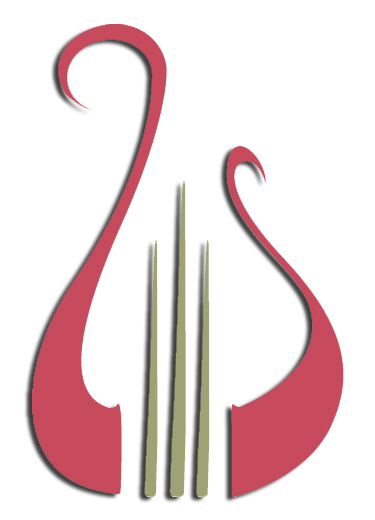 Early musical requirements
Although some association with the music school was required early on, Alpha Chi Omega was never a "strictly musical" organization. Members graduated in many other departments of the university, including the liberal arts department. In 1889, a national literary fraternity offered to merge with Alpha Chi Omega, however, Alpha Chi never considered taking members of other fraternities, unlike professional fraternities. In its early years it was externally considered to be a professional music society, but due to disagreement with this designation, in 1900, the sorority added literary qualifications, which led to it being considered a general (social) sorority by 1905.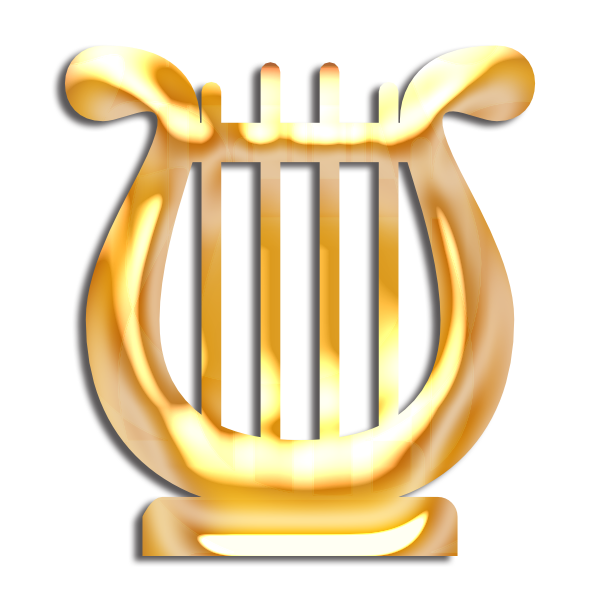 Alpha Chi Omega Symbol — Golden Lyre
Symbols of Alpha Chi Omega
Alpha Chi Omega's Founders chose "Alpha" (Α), the first letter of the Greek alphabet, because they were forming the first fraternity in the school of music. Since they thought they might also be founding the last such fraternity, "Omega" (Ω) seemed appropriate, considering it stands for the end. "Kai", meaning "and", was added to form "the beginning and the end". "Kai" was soon changed to "Chi" (Χ), a letter of the Greek alphabet.
Alpha Chi Omega's colors of scarlet red and olive green were chosen to commemorate the fraternity's fall founding. The symbol is a lyre and the official flower is a red carnation, exemplifying the fraternity's colors. The official jewel is the pearl. The badge (pin) is a lyre, typically featuring pearls and the fraternity's letters on the crossbar.
— Read More History on Alpha Chi Omega on Wikipedia
Alpha Chi Omega (ΑΧΩ)
Founded On: October 15th, 1885 – Depauw University
Type: Social Sorority
Colors: Scarlet Red and Olive Green
Flower: Red Carnation
Nicknames: AChiO-Alpha-Chi
Chapters: 139 Chapters
Website: www.alphachiomega.org
Motto: Μαζί ας αναζητήσουμε τα ύψη  — "Together let us seek the heights"
Alpha Chi Omega's Flag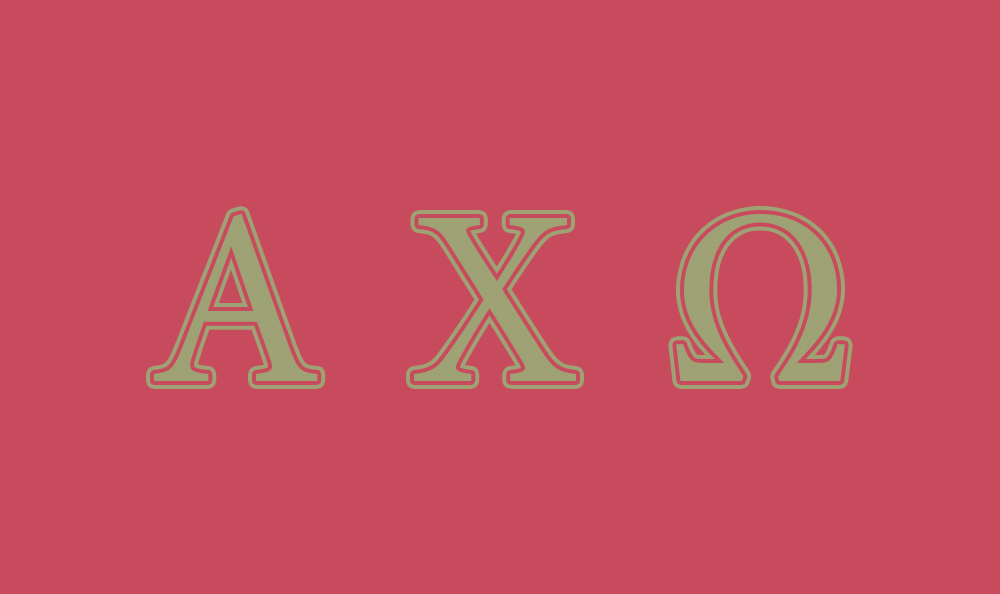 Official Colors
| 1st Color | 2nd Color | 3rd Color |
| --- | --- | --- |
| Scarlet Red | Olive Green | N/A |
| | | |